Shushed by the library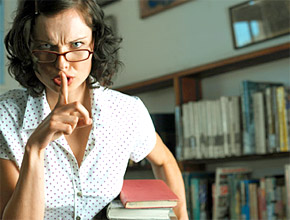 A friend of mine (let's call her Jill) works in a library. As part of her responsibilities, she ran a summer program in the library for local teens, the theme of which was finding success in life. At the conclusion of the program, she invited her boyfriend (he's her fiancé now, let's call him John) to talk to the teens about how his Christian faith was important to his success.
Several of the teens wanted to know more about God and the Christian faith and asked John if they could meet with him to learn more. They decided to meet once a week in one of the library's common rooms, which are open for anyone to use. It was not booked, they just chose to meet at a time when the room was rarely in use.
The library administrators learned about the meetings, and told Jill that they were not allowed to meet there anymore
Then the library administration told Jill that, not only was the group not allowed to meet at the library, but they didn't want them meeting anywhere, at all. The rationale was that Jill's connection to both the library and to John made the relationship between John and the teens inappropriate.
John is still meeting with the teens away from the library.
As Jill and I talked about this situation, we wondered if the library's reaction would have been the same if they weren't talking about religious topics. The room was a public one, and teens themselves requested the meetings.
Do you think the library's actions were appropriate? Does the library have the right to attempt to control activities that happen outside of its premises?  Is it simply that anything religious is unfairly excluded from the public square?
Related reading:
Talk about faith & your spiritual journey – Join our daily online chat rooms
Three Tough Questions about Faith – And how to answer them