What do You Want for Christmas?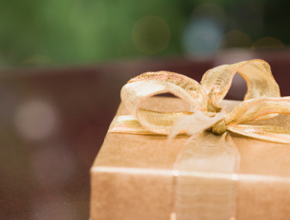 If there's one question I hear over and over again this time of year it's this: what do you want for Christmas?  Amid the gift and the wrappings there is something about this time of year that gives us permission to dream, to be extravagant to hope for something more.
Christmas is a time for dreaming, for wondering, for optimism.  I know that Christmas is not always perfect, but in this season it's as if we're allowed to wonder what it would be like if it was.
As I've thought about what I want, for Christmas and for the year ahead, I realized that it's not something I think about as often as I should.  It can be quite a challenge to put what I want into words.  It takes courage to say it out loud.  What if I admit that I want something and I don't get it? What happens then?  It is better to pretend I never wanted it in the first place?
I came across a quote recently that has become my Christmas wish, for myself and for those I love.  It speaks of the absolute necessity of hope.  As I read it, I realize that this is what I want for Christmas.  American novelist Barbarba Kingsolver writes:
The very least you can do in your life is to figure out what you hope for. And the most you can do is live inside that hope. Not admire it from a distance but live right in it, under its roof.
I love the picture she has created here.  This is hope received.  Hope is not something that happens to you, it comes from within you.  Whatever your year looks like, whatever Christmas looks like for you this year, hope is a choice.  You can have it.
It is my challenge to you, and to myself this Christmas. Do you know what you hope for? Are you living under it's roof.  As we step into Christmas,  take time to truly receive, to wish, to dream and most of all, to hope.

If you are facing a hard Christmas this year, we have mentors who would love to talk with you.
What does your soul crave? Explore your inmost desires.