Mom, Can We Read Now?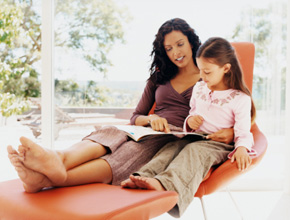 "Anyone who says they have only one life to live must not know how to read a book."  ~ Author Unknown
When I was in university, Professor Szabo told us "Scientists will tell you that the world is made up of atoms, but they're wrong.  The world is made up of stories."  She might have been quoting someone else, but of all the things she said this is one that has stayed with me.  Stories are everywhere and as readers, we get to experience them all.  Who wouldn't want that for their kids?
We know books are great but the reality is, not all kids love to read. So how do you get your non-reader to pick up a book? Sometimes it's a simple as buying the right book.  If your son is into dirt bikes, find him a book about a dirt biker.  If your daughter is more interested in soccer than reading, look for books that match her interest.
Recently, I had the opportunity to see this simple plan in action.  I got the chance to help purchase books for a 6th Grade class in a low income area of New York city.  The teacher had lamented that her students had read all the books in their small library and with nothing new to read the students had decided that books were boring.  Fearful that they would turn their backs on books for good she applied to DonorsChoose.org to fund a book project.
The project was successful and with the new titles in her class the teacher wrote the following:
Students who had not been reading because they were "bored" were hungrily looking through the books and reading them at once. Kids were begging me to read during class time! It is so inspiring to hear kids talking about books, characters, and authors the same way they talk about movie stars.
It can be hard for books to compete with video games and the internet, but a love of reading instilled early in a child's life will often stay with them long into adulthood.   If you are looking for ways to get your children into reading Jessica Ackerman's article "Creating Readers: Helping Kids Learn to Love to Read" has four things you can do today to help your child become a life long reader.
She writes:
Fostering a love of reading in your child is one of the best things you can do for them. Reading is such an important part of everyday life.   Being a good reader will not only help them throughout their life educationally , but also provide them with a source of enjoyment.
Try one of Jessica's ideas.  You never know where a good book will take you.  You just might hear your own kids asking, "Mom, can we read now?"