Unfairly Grounded?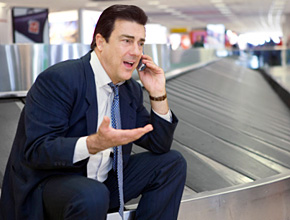 Were the airplanes unfairly grounded? In the aftermath of the recent Iceland volcano eruption which spewed volcanic ash all over Europe, some are questioning the decision to ground all airplane flights.
It's estimated that the decision resulted in about $1billion in losses. And now some are suggesting that it was a mistake to keep the planes out of the air.
Six days after ash from Iceland's volcano paralyzed European airspace, aviation experts and academics are arguing over whether the entire mess could have been avoided.
[The] grounding of flights drew a sharp rebuke from Giovanni Bisignani, director general of the International Air Transport Association (IATA), who argued that the entire mess could have been avoided had the airlines focused on facts and figures on actual damage caused to jet engines by volcanic ash … Unsurprisingly, the European Union's transit officials have replied that they're not willing to compromise on passenger safety.
CBSNews
)
One of the commenters on the article says that "The people whose lives were at stake, are better off to be inconvenienced, than killed." This is true, but assumes that there was a real risk in flying the planes, which is the very point of debate!
However, the debate highlights a common mindset, that people are willing to risk their safety if it means that they will avoid inconvenience. Why do we sacrifice our safety just to avoid inconvenience? How often have you witnessed someone driving around a barrier, or circumventing a security measure, or ignoring a safety warning, because paying attention to it would make them late or cause them to go out of their way? Is it partially due to the pace of modern society that people feel such pressure towards efficiency at all costs and eventually burn out from the stress?
If you were inconvenienced by the flight groundings, please share your experiences! How did you get through it? And if not, have you noticed this tendency to value efficiency above safety, either at your job or in your personal life?

When you find yourself struggling with issues of stress and burnout, in work, marriage, or elsewhere, please consider contacting an online mentor about it. Your conversations will happen through email and will be kept strictly confidential.

Upcoming online chats: Join us for daily online chats! One of our features will be "Don't Give Up" on April 29 at 10:30 pm EDT Please join us to get tips on how to never give up!