5 Cheap Family Vacation Ideas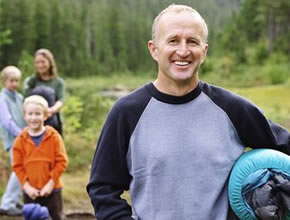 Money is tight, but you still want to take your family on an exciting vacation! Here are some ideas that won't break the bank.
1. Family camp – Also called "intergenerational camps", to distinguish them from the classic kids' summer camps, they typically have beautiful settings, simple lodgings, meals included (probably in a dining hall), and many outdoors and other activities.Price can be as low as under $1000 for a week, for a family of four. (More info: About.com)
2. Be a  tourist in your own town – Many cities offer special discounts on attractions and parks for locals.  A quick Google search for "tourist in your own town" returns 4.5 million results! Take a look at what's hiding in your own backyard, and explore the tourist destinations in your own area that you've never visited!.
– A "staycation" is a vacation that happens with all the benefits of fun and relaxation, but without traveling anywhere. It can either consist of doing a series of daytrips out of your own home, or staying in a local family-friendly hotel while enjoying local entertainment. (More info: About.com)
4. Branson, MO – If you have a little more flexibility when it comes to budget, a visit to Branson, Missouri (sometimes referred to as the "family friendly Las Vegas") would be an entertaining destination with something for all members of the family, with activities for both the kids (such as the World's Largest Toy Museum) and adults (such as Pointe Royale Golf Course). (More info: AssociatedContent)
5. Become an online bargain hunter – There are dozens of websites where you can find deals on travel, lodging, and entertainment. Don't be content to accept the lowest price from a single site; a different site may find you much better prices. (More info: Canadian Living)
Do you have any favorite budget-conscious vacation destinations? Share your favorite spots with us!