Does God Care Who Wins?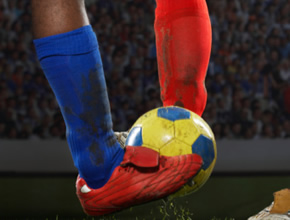 Does God care about sports? Although God, as creator of the world and everything in it, is infinitely greater than and exists wholly apart from this universe, God is also omnipresent in the world. He sustains it and everything in it by His power: "For in him we live and move and have our being." (Acts 17:28) This we know and seek to experience daily. How though does this translate into the world of professional sports?
An article posted today on CNN titled "When did God become a sports fan?" asks this very question, from a secular perspective. Often winning athletes will thank God during post-game interviews. I saw an example just last night when an NBA player (I can't recall who, I'm not a huge NBA fan) thanked God for helping his team with their playoff game.

Questions about faith? Bring your doubts
Why would I need faith?: Find some answers
The CNN article gives numerous other examples, such as Rich Franklin (a mixed-martial arts fighter in the UFC) thanking God after his matches, or tennis star Michael Chang (whose testimony you can read on our site) similarly thanking God when he proclaimed "I thank the Lord Jesus Christ, because without Him I am nothing" after winning the 1989 French Open.
Certainly we should thank God for how He has blessed us, as these athletes have done. But what role does God play in sports? How should a Christian athlete pray before their matches? And how should athletes use their privileged position to be witnesses to God's truth? Let us know what you think!
If you are a Christian athlete or just interested in sports, check out Athletes in Action, a sports outreach ministry which is part of Power to Change Canada.

Upcoming online chats: Join us for daily online chats! One of our features will be "How to Pray for a President" on May 31 at 10:30 am EDT Please join us to learn to pray for the President.