Does Marriage Matter?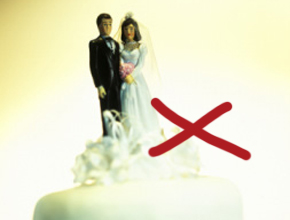 A recent article for The Frisky asked 15 women currently in long term relationships why they chose not to marry. I was expecting them to say that they didn't believe in marriage, or that they had a religious or atheistic objection to it.  Instead I found that their answers had more to do with what they think marriage is and what they are afraid of.
One of the women was worried that in marriage gender roles would overwhelm their relationship.  She wrote:
"I don't want to be burdened with the 'wife role,' and by not marrying I feel it helps us retain the equality in our relationship. I fear that marriage could cause him to want me to be a stay-at-home mom, and that is the one thing I have never wanted to be. We do want kids someday, but we both agreed that I could continue to work and I fear marriage would change this." – Cynthia G., Marion, Illinois
I'm not sure why she felt that her boyfriend would go back on his word once she became his wife.  If they had already discussed the matter as adults and equals, why would that change once they were married?
About that dress…
Lindy M. in West Virginia said:
"Marriage would put too much stress on us and our relationship. Things are fine the way they are, so why change this? I fear that things like paying for a wedding would add stress, and since I was just laid off from my job, we do not need anymore stress."
But a marriage is not about the details and a wedding dress. That's just a dress.  And yet, it's not just a dress.  For many women that dress is a dream and a fantasy.  If you've ever seen an episode of the TLC show Say Yes to the Dress you know as well as I do that rational people don't spend upwards of $5 000 on just a dress.  They're buying a fantasy.  It's their money, and I'm not saying it's incorrect to buy an expensive dress, but it saddens me to think that a dress would someone's reason for not marrying.  Although it's just as sad when the dress IS the reason.
I remember years ago talking a good friend of mine.  She was upset because her best friend was getting divorced after just two years of marriage.  When she asked her friend what happened she gave an answer that has stayed with me for more than a decade.  She said:
"I knew it wouldn't last.  I knew the day I walked down the aisle that it wasn't going to work.  But I had already bought my wedding dress and I really wanted to wear that dress."
All this time later it still breaks my heart to think of all that pain over a dress.  The time to talk about whether or not a marriage can last is long before you go for a fitting.  Sometimes things come up during a marriage that no one could have predicted and some of those things are really, really hard.  But if you know going in that it's a heartache waiting to happen, why put both of you through that?
The one that caught my eye the most was from Matilda who felt that differences in faith were not important now, but would become important should they decide to marry.  She wrote:
"I do not believe in God, but my boyfriend does. The way things are now, this is not a problem. But if we got married, I feel it would become an issue when it comes to things like marrying in a church, deciding what to teach our children, etc. If we remain unmarried, I do not see this becoming a major problem."  – Matilda F., Buffalo
If they stay together and have children won't this become an issue anyway? As I read through the article I realized that I expected these women to say that marriage wouldn't change a thing – and to be fair there were a couple who said just that – but the majority of them seemed to say that marriage DOES change things and that is precisely why they did not want any part of it.

What do you think? Does being married matter? Are you thinking about getting married? Try our free life lesson Reflections for a Bride