Why are Christians jerks?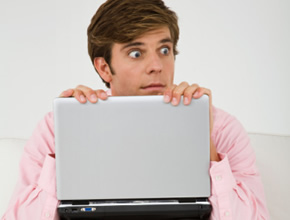 Ever run into a self-righteous loudmouthed Christian online? Sadly, you're probably not alone.
Jonathan Acuff is the author of Stuff Christians Like, a blog that pokes gentle fun at Christian culture using humor and perceptive critiques. His post today for CNN is provocatively titled: "My Take: Why Christians are jerks online." He identifies two reasons he sees as being major contributors.
The first is the separation of online and offline personalities. Online, people can become effectively anonymous. This anonymity removes most of the consequences from our actions. It's a lot easier to make a caustic comment when you don't have to witness the hurt it caused.
The second is that sometimes arguing about trivial things (like popular music or having a sip of wine with dinner) is easier than discussing real, heartfelt topics and loving one another. Acuff points out how paradoxical the idea of a "Jerk Christian" really is:
Much like "Christian hate mail," being a "Jerk Christian" defies logic. …  In Matthew 22 someone asks Jesus, "What is the most important commandment?" The answer is simple: "Love the Lord your God with all your heart and with all your soul and with all your mind." This is the first and greatest commandment. And the second is like it: "Love your neighbor as yourself."
Before I became Christian, I grew up in a secular home, and I generally had the mindset that Christians were all just hypocrites. Later I realized that the "being a jerk" problem is not a unique Christian problem, it's a human problem. Despite good intentions, everyone fails sometimes, and acknowledging this should cause us (whether Christian or not) to be gracious to those around us.
I'd like to take this opportunity to apologize for the problems Christians cause, and my own lack of grace when I've posted online, which doesn't accurately reflect the type of people Christians should be. I wish I, and we, could better love our neighbors.
Yet, despite the failures of God's followers, there is hope. I'm strengthened by the fact that just because people cause problems, that doesn't that mean that God is not great. I hope that my sometimes less than stellar behavior, and those of other followers of Christ, does not push people away from God, but somehow can be a reminder that we all face the same problem: The hypocrisy of our own hearts. Acuff ends his post by saying:
Jesus came for the mess-ups like us. Jesus came for the failures. Jesus came for the jerks. (That's not in the King James version of the Bible, I remixed it like Timbaland.) And the truth is, grace is the antidote to being a jerk online.
I wholeheartedly agree, and hope that I will take this message to heart.
Have you ever had a bad experience with someone and their religious views online? Or have you realized that you were the one being less than gracious? Let us know below.