Is Patriotism Lame?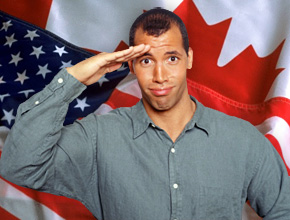 I don't know what's been going on in your hometown lately, but here in Toronto Canada we had a weekend full of violent protests. Police cars set on fire, windows of shops smashed, and approximately 900 people arrested. All of this was due to the G20 summit, which cost billions of dollars, not including the collateral damage.
Unfortunately most of the potential significance of the G20 summit was lost amidst the unfortunate violence and predictable condemnation of both the violent protesters and the police force – alternatively people are condemning the police for not doing enough to prevent the violence and sometimes in the same breath for doing too much! (Globe & Mail)
, even though most of the violent "protesters" (in contrast to the majority of people there, who were peaceful protesters) were nothing more than opportunistic, cowardly vandals who cared little about the issues.
Incidents like these and a general feeling of skepticism and mistrust of government in general have led patriotism to be considered lame. Or even worse, could patriotism be intolerant? (Intolerance being the worst insult in a politically correct society.) Having pride in my country, thinking that it is in any way better than another, could be seen as being intolerant to other countries.
But I think the recent FIFA World Cup tournament provides an interesting example of how patriotism and tolerance are not opposed. Even though it is a sports competition between countries, it still is meant to be a way to foster greater understanding and camaraderie between the nations. At the end of FIFA matches, football (soccer) players will exchange their jersey with a member of the opponent squad as a way of "showing respect and camaraderie between combatants."  This sort of competition demonstrates that it's possible to be patriotic and love your country while simultaneously respect others. (Yahoo!Sports)
So I don't think patriotism is lame or antiquated. Canada Day was July 1 and Independence Day in the USA is July 4. This year, instead of negatively focusing on the problems and failings of our governments, why not spend some time thinking about what is good and praiseworthy about the nations in which we live?
What do you love about your country? What do you consider good and praiseworthy about it, and wish to share with the world?