What if you lose?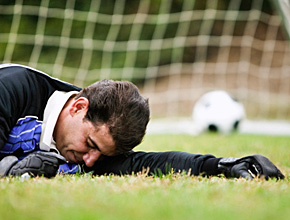 There's always a lot of excitement around a championship game.  For one team, and all of their fans, it is a momentous occasion. There's partying in the streets, massive patriotic pride, and kudos for their successful homecoming athletes.
But what about the losing team? Their fans are understandably disappointed. The players, much more. For the final four, the bitter taste of loss can sometimes be worse than being eliminated earlier, because they achieved so much, and came so close, only to fall short. "I thought this was the year," they might think, "I thought I was destined for greatness."
Can you relate?
Have you ever wondered if your life is destined for something more than you're living right now? Author Erwin McManus explores the idea of destiny and the important role it plays in our lives in the videos below, please take a look and let us know what you think. If you have been going through a tough time recently, due to losses, disappointments, lack of direction, or other issues, and would like to speak privately with someone instead, you can always try contacting a mentor.
Part one: Do you crave destiny?

Part two: Do you crave destiny?

Check out the Soul Cravings website for more questions and videos and let us know what you think.