Take Your Pick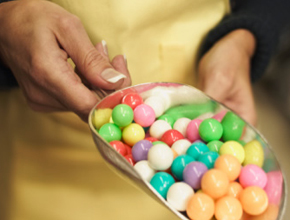 From a very, very young age we're taught that choices are important. Whether it's deciding what color shirt to wear, or what to major in in college, choices, we're told will have a profound impact not just on what we do but on who we are.
Ask any two year old to put on a pair of shoes without consulting them and you'll get a quick lesson in the importance of choice.  Choice makes us self determinate, gives us control, lets us write the future, or so we're told.  But researchers do not always agree.
I was fascinated by a talk given by researcher Sheena Iyengar at this year's TEDGlobal conference.  (You can watch the talk below).  She spoke about the idea of choice, how it varies around the world and how sometimes, getting to choose might not be in our best interest.
She listed three assumptions about choice that are common in America:
If a choice is to be made I should be the one to make it.
The more choices I have, the more likely I am to make the best choice.
I must never say no to choice
At first glance, these seem like reasonable statements, but as she went on to show, it's rarely that simple.  The statement that stood out to me the most was "The value of choice lies in the ability to see the difference in the choices."
What happens when the options are barely different at all? Does choice become an illusion?
Is choice always better?
Iyengar  did a study of parents who had had an infant born with tragic complications that required the child to be put on life support immediately.  In all cases the parents were told that the child could not survive if removed from life support, and that on life support the child would remain in a permanent vegetative state.  All of the children included in the study had been taken off life support and passed away.  Half the parents in the study were American, the other half French.
Among the French parents, the choice to withdraw life support sat with the doctors.  For the American parents the choice was theirs.  Overwhemingly, the American parents had far more negative reactions to their experience – one parent asked how they could be asked to choose, another spoke of feeling like she had played a role in an execution – yet all the American parents said they could not imagine letting someone else make that choice for them.
Is it kinder not to force the parents to choose when neither option is favorable? Is it worse to hear someone else declare that your child will be removed from life saving devices?  It's an extreme example, and a place no one would ever want to be.  I'm not sure what the answer is.  Is being able to choose always better?
Choice can be a wonderful freedom – no one wants to live as a robot being told what to do when, and where and how.  I think the trick to is to learn which choices are the important ones and to recognize that we are always choosing.  Deciding not to pick up the phone is a choice just as much as making the call is a choice.  Sometimes we mistake passivity for not choosing, but it's a choice that speaks just as loudly as any other action.
When it comes to the things that matter, how do you decide?
Ready to make even better choices? Try our free life lesson Finding Freedom.