Leaders in the Workplace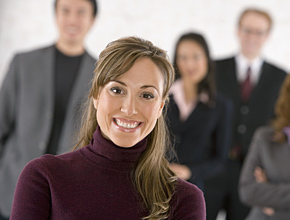 How can we become more effective leaders? Often when we think of leadership we think of CEOs of major corporations, or politicians who are responsible for leading their countries. However, we are all leaders in some respect. There are many areas of life where having good leadership skills can help you make a huge impact, without having the letters "CEO" after your name.
Katherine J Kehler, an innovator and entrepreneur, has many years of experience in spearheading and leading projects, including being one of the original architects behind this website. Her article "Nine Principles for Effective Leadership" is written for women but the principles she describes are appropriate for anyone to learn and put into practice.
She begins her article by saying: "It is said that we all influence at least 250 people in our lifetime. We each have the responsibility of leadership. Every woman can be a leader. Yet results of surveys show that most women greatly underestimate their influence."
Check out the article and let us know what you think. What is the most important piece of leadership advice anyone has given you? Please share with us if something comes to mind.