Extreme Makeover: HOPE edition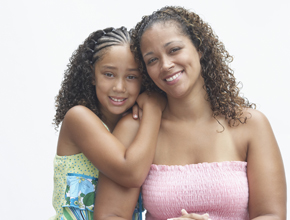 Would you let go of your child if it meant giving them a better life? This past Sunday I was watching Extreme Makeover: Home Edition, a show that I love even though it makes me cry.  It was the season premiere – did you see it? Instead of building a house for one family they built a home for Boys Hope Girls Hope Baltimore, a group that takes at risk youth who are excelling academically and puts them in an environment where they can flourish.
These kids come from neighborhoods where guns and drugs, gangs and violence are the norm.  They move into a group home with a focus on academics, healthy living and community service.  For boys and girls who complete the program 100% of them go on to college.

Are you feeling hopeless?: Moving through your suffering
Exhale your sin: Find hope in the Holy Spirit

It is an incredible opportunity, but as I watched the show I couldn't help but think of what it costs these parents to let their children go. Boys and girls can enter the program as young as 12 years old.  How do you let your 12 year old go and live with someone else? What depth of selfless love does it take to help them pack, to let them move into a world that you yourself do not live in?
I was in awe of these parents.
Every parent wants the very best for their child but not every parent has the same resources to make it happen. There are good schools and bad schools, families with plenty and families that struggle to put food on the table.   What these parents had in spades is love and also hope.  They believed that their kids could have a better life and they were willing to break their own hearts to give it to them.  You can't eat hope, but you can live off it, for a little while at least.
I remember hearing in biology class years ago that hope can, literally save your life.  There was an experiment done years ago involving rats and buckets of water.  The first group of rats were left to swim in the water until they died of exhaustion.  The second group was left to swim, then taken out and allowed to rest and then put back in the water.  The second group swam hours longer than the first and scientists concluded that it was because they had hope that they would be allowed to rest again.
For these parents, they have hope that their daughters will grow up to be strong women, that they will go to college and become anything they want to be.  That hope is so strong that they wipe away their own tears and let their children go.  That's a powerful hope.  What do you hope for?

Read Sandra's story of finding hope and a future and the day that changed everything.