Life After Death at Halloween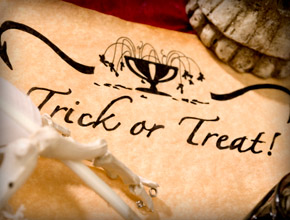 One of humanity's quirks is that people actually like to be scared. At least, pretend scared. Kids (and often adults) dress up as ghouls, ghosts, pirates, and their favorite costumed superheros and villains and run around from house to house shouting "Trick of Treat!" and demanding candy.
I've always thought Halloween is one of the weirdest holidays: Think how confusing it must be for people who are not from North America, especially if no one has told them about the tradition beforehand! And just imagine how strange it would be if this holiday attempted to be introduced today: "We'll have all the kids put on costumes and go to all the neighbor's houses (ie, strangers' houses) and accept food from them." In every other instance we've told them to never accept candy from strangers, but apparently once a year it's prefectly okay … but only when you're dressed up as Spiderman! What a strange tradition!
And going back to people actually enjoying being (pretend) scared, why else would Halloween inspired haunted houses be a booming industry which generate hundreds of millions of dollars each year? My guess is that people enjoy the excitement and the adrenaline rush of the experience while at the same time knowing in the back of their minds that they are safe and in no real danger.
Real death, however, when it stares us in the face, is (or should be) scary. A recent video added to the new iTV videos area of our website titled simply "Life After Death" dramatizes what is a fairly common experience: a "near death experience" (NDE).
Most NDEs are at least potentially explainable in medical terms. However, some such NDEs, termed "evidential NDEs", are not so easily dismissed. Dr Gary Habermas has extensively researched NDE claims, and gives one example of such an evidenced case in his article "Near Death Experiences: Evidence for an Afterlife?":
One well-documented case involved a little girl who had very nearly drowned, and who did not register a pulse for 19 minutes. Her emergency room physician, pediatrician Melvin Morse, states that he "stood over Katie's lifeless body in the intensive care unit." An emergency CAT scan indicated that Katie had massive brain swelling, no gag reflex, and was "profoundly comatose." Morse notes that, "When I first saw her, her pupils were fixed and dilated, meaning that irreversible brain damage had most likely occurred." Her breathing was done by an artificial lung machine. She was given very little chance of surviving.
But then, just three days later, Katie unexpectedly made a full recovery. In fact, when she revived, she reproduced an amazing wealth of information regarding the emergency room, specific details of her resuscitation, along with physical descriptions of the two physicians who worked on her. All this occurred while she was completely comatose and most likely without any brain function whatsoever. As Morse recounts, "a child with Katie's symptoms should have the absence of any brain function and therefore should comprehend nothing."
It took her almost an hour to recall all the recent details. However, part of the story made no sense in usual medical terms. Katie related that during her comatose state, she was visited by an angel named Elizabeth, who allowed her to look in on her family at home. Katie correctly reported very specific details concerning what her siblings were doing, even identifying a popular rock song that her sister listened to, watched her father, and then observed as her mom cooked a meal that she correctly identified: roast chicken and rice. She described the clothing and positions of her family members. Later, she shocked her parents by telling them these details that had occurred only a few days before. (Full article)
What do you think about the Life After Death video? Do you think it's possible that a person's existence does not end upon their death? If that's the case, how could we know what lies beyond? It seems like the only way would be if someone actually died and returned to tell us, not just "almost died" like in a near-death experience.