The World Series & Faith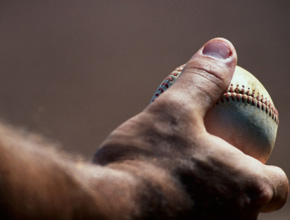 Tonight, a new World Series champion may be crowned. Either the San Francisco Giants will win their first World Series title in 56 years, or the Texas Rangers will prolong the series, which currently sits at 3-1 in the Giants' favor. (TSN)
The situation looks bleak for the Texas Rangers right now, but as I read about the series, I thought back to an article on our website about former Arizona Diamondbacks CEO Jerry Colangelo called "Baseball and Miracles":
During press interviews prior to embarking on the now legendary 2001 World Series against the New York Yankees, Arizona Diamondbacks Chairman and CEO Jerry Colangelo was asked what his prediction was for the outcome of the series. Jerry's response was immediate. "I don't predict, but I'll tell you what I would pray for."

Questions about faith? Bring your doubts
Why would I need faith?: Find some answers
"What's that?" The reporters asked.
"That the series goes seven games, that we win at the bottom of the ninth inning in front of our home crowd, that the bases are loaded with two outs and that Gonzo is at the plate."
Amazingly, seven games later, that's almost exactly what did happen.
I wondered how the players on losing teams cope with loss. On one hand, they are professionals and know that they will often face tough loses in their careers. But on the other, any such loss (especially one so public) must sting.
Do any of the current World Series participants have a personal faith which impacts their lives? An article title "MLB World Series Players Testify of God's Grace" reveals that many on both teams do. Brian Wilson (not the Beach Boys singer, the Giants pitcher) of whom fans have adopted the the battle cry "Fear the Beard" referring to his iconic black beard, said he used to criticize Christianity before coming to know God, while Josh Hamilton (Rangers' outfielder) said that "God is so faithful through the good times that you don't forget Him in the bad times." Clearly it is his faith that will sustain him, even if it turns out that the Rangers can't overcome adversity and win the series.
Related reading:
Heroism: We All Want Someone to Believe In
Dealing with Disappointment: When things go wrong