Hey Mom, Can We Talk?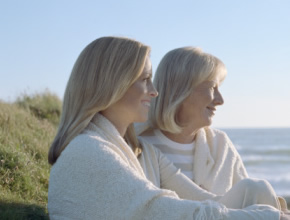 Growing up my Dad always made a point of telling us that none of us are adopted. When it comes to me and my Mom, he really could have saved his breath.  I look just like her.  We are very similar in other ways too.
I know that I get my love of words and my passion for word-play from my Mom.  We like books and crossword puzzles and silly poems and nonsense.  My Dad has long complained that when the two of us are together we speak a different language entirely.  (He is right about that, but honestly, after all these years how can he not know what numciouses are?)  As I get older I realize that there are other things of hers that are in my life too.
I have her uncertainty in new situations. Just like my Mom I need to know before I can act.  My first impulse is not to try, it's to question.   We both find safety in the familiar even though we also both like to travel.  I have always had a good relationship with my Mom, but it is only in the last few years that we've actually talked about why we are the way we are.
There are conversations that every girl has with her mother, and we've had those too but it surprises me that it has taken us this long to get these important topics.  How does she deal with meeting new people? Why does she think we act the way we do?  My Mom has 30+ years more experience than I do.  Why did it take me so long to ask?
I wonder if it's because asking these questions can feel like we're calling choices into question? I don't want to debate with my Mom why she chose not to go to college, but I wanted to know the reasons.  She let me into her heart long ago, now as I get older I find I want to be let inside her brain as well.  What was it like to move to Africa with two small children? What was it like falling in love with my Dad? How did she cope with caring for a sick parent for the 10 years he lived in our house?
These are the conversations I want to have with my mother.  I want to know her better, as a woman, as well as a mother.  I know that her choice to have children has effected everything that came after but it is not the only choice she's ever made.  I want to hear the other stories too.  I feel like I know her pretty well, but I want to know her better.  I am very fortunate to still have my Mom around.  This year, for Mother's Day I think I'll go ask her.
What are the best questions you've ever asked your Mom? Tell us in the comments.
Let's talk: "Lesssons from Mom" – join us in the chat room May 9th @ 12:15 EDT?