Is Work Killing Your Relationships?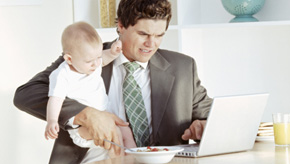 Does your career own you? Do household chores keep you from quality time—or any time—from your kids? Do the demands of errands and meetings and emergencies keep you from catching your breath? If you can answer yes to any of these questions, you might be suffering from workaholism. In the United States today, about seventeen percent of adults, or nearly 20 million people, work between fifty and seventy hours per week. Do you?
Fortunately sheer hours do not determine a workaholic, but workaholics definitely work longer than most. What sets them apart is their sense of being out of control, as well as valuing busyness over relationships. Dr. Bryan Robinson, a leading researcher on work and relationships, defines workaholism as "a compulsive and progressive, potentially fatal disorder characterized by self-imposed demands, compulsive overworking, inability to regulate work habits, and overindulgence in work to the exclusion and detriment of intimate relationships and major life activities."
What about you? Do you tend to:
• Feel rushed, busy, and multi-tasked?
• Work more than socialize?
• Hate being interrupted from your work?
• Feel guilty when you're not working?
• Get impatient when you're not "in control"?
• Become upset when others don't measure up to your work standards?
A"yes" to some or any of these questions may signal a workaholic spirit.
Who Cares? Isn't Work a Virtue?
True, work is good, important, and necessary. Right from the start God gave Adam and Eve the task to steward the garden. In the book of Genesis it says he placed Adam in Eden "to work it and take care of it." We all know that a garden grows better when we add fresh soil, till packed earth, and spread moist compost. You can tell when a garden has received watchful, effortful attention.
We also know that healthy work gives us a sense of purpose and accomplishment, and earns us an income, which makes us feel good. Without work, everyday life would bump to a stop, for working gives us clean homes, kept parks, safe roads, and productive businesses. The place where work turns from virtue to vice is in our heart when we allow it to consume us, rather than us engaging it for our own directed purposes.
Okay, so can hard work really hurt my marriage?
Well that depends on what you're working hard at. If you're working diligently at your career, but sloughing off in your relationships, then yes, you're headed for trouble. What does it look like to be engrossed with your job, but coasting in your relationships? Here are some signs.
• You ask someone a question, but miss their answer because your head is "somewhere else."
• You spend little if any time thinking about your loved ones' needs and wants.
• You tend to forget, ignore, or minimize birthdays, reunions, anniversaries or holidays in favor of work.
• You identify more with your position at work than your role as spouse, parent, or friend.
• Your spouse and kids cover for you when you're absent from public family gatherings.
• When you're home, you feel emotionally drained and detached from those around you.
• Your family has to "tip toe" around you lest you blow up at some minor offence.
The cancer at the root of these symptoms may be that we think careers take work, but marriage and family life are easy. A good, happy relationship does not just spring to life when we meet Mr. Right, or Miss Ideal.  They get knit together one stitch at a time through effort.
So what can I do if I feel like a workaholic?
I think the first question we need to ask is, What are we here for? And second, What should be the nature of our existence? I think the answer to the first is purpose, and the second is presence.
We gain purpose when we can see the reason for our work, and for our relationships, rather than feel they are a meaningless going-through-the-motions. My conviction is that life is about loving God and serving others. What is your purpose in life? If it's to get rich or earn prestige, then perhaps that's what's driving your workaholism. Or maybe you work to forget past hurts, or to ignore current ones. If so, then your work is driven by wounds.
We gain presence when we reprioritize our values to create margin so we can offer attention and emotional support in our relationships. If your family has ever said, "you're physically here, but your brain is somewhere else," you know you lack emotional presence. I like the advice that says, "wherever you are, be all there." So how do we gain purpose and presence?
1. If you're really concerned about your work interfering with family life, seek professional help. The key is that you've identified the pattern, and can point to feelings and behaviors you think indicate a problem. I recommend you find a counselor if you identify with the indicators bulleted above.
2. Realize that with only 24 hours in a day, every minute spent at work means another minute lost at home. In Choosing to Cheat: Who Wins when Family and Work Collide?, Andy Stanley observes that broadly speaking all cheating is about trading one thing we value for something we don't, and this normally entails trading an intangible virtue for some tangible reward. Are you trading away your marriage (an intangible I would call faithfulness) for the tangible rewards of promotion and toys? It sounds blunt, but if you can get your work done in eight hours, do. Put the laptop away, turn off the Blackberry, go home, and engage your family.

3. Recognize that all relationships require work. They aren't easy. Pastor Ed Harris says it well:
All relationships require work. This is one of the most overlooked and under-appreciated areas of our human being tool chest. We think just because someone is married to us or that we have a few friends on Facebook and folks humor us by laughing at our jokes, that we have mastered the art of having a good relationship. Think again. Just like any other working organism, whether it is mechanical or flesh and blood, it requires maintenance, work and dedication.
This is a revelation to some.
4. Realize that the effects of your workaholism on your family are real. We'd like to think otherwise—that our spouse is strong, our kids resilient. Or we might think the benefits of our hard work outweigh its detriments. A young woman, Marin, would disagree.  She writes:
Most of my childhood, my dad was a severe workaholic. He worked as much as he could and made as much money as possible. That was what was important to him. He was doing it to support the family and give us extras, so I guess you could argue that the family was important to him, but it felt like work was more important because that is where he spent his time.
His workaholism put strains on all of our relationships. We kids were scared of setting him off or becoming angry with him. It changed the way that we behaved toward each other and outsiders.
I found that I have inherited the same tendencies. When I work excessively hard, I can become depressed, and then I become like a sloth. I don't want to do anything, not even have fun or invest in others.
5. Negotiate your priorities with your spouse and family. We show our loved ones presence when we sit down, give full eye contact, listen actively, and talk about life, together. We show it in partnering with them about decisions small and large. For example, what plans might you agree on for tonight? The weekend? Your next vacation? Or, how do you hope to spend that nest egg? Will it be to visit your folks, or the in-laws, or to just get away by yourselves? If we put effort into our relating, similar to that put into career or housework or busyness, we're bound to build hope.
When I consider deep sources for purpose and presence, I consider Jesus who said, "Come to me, all who are weary and burdened, and I will give you rest. Take my yoke upon you and learn from me, for I am gentle and humble in heart, and you will find rest for your souls. For my yoke is easy and my burden is light." (Matthew 11: 28-30)
Jesus isn't promising a bed of roses when we give our burdens to him, but he says his way gives rest, yields life, for it means not chasing achievement and accumulation or ignoring our hurts and wounds. His purpose provides meaning to love him and the people around us, people who become our allies as we face life's challenges together.

Have you lost your family because you put business before your family? Watch this video and learn how Bud Paxon dealt with it.