Would You Say No if a Guy Asked to Marry Your Daughter?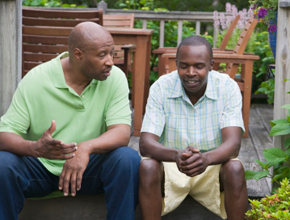 It would turn out to be another fateful day.  We were all together as a family with friends at a Mountain Lodge and I took a break from all the activity to relax and read in my room. That's where my daughter's boyfriend, Dan, found me and that began the fateful part of the day.
He asked if we could talk so I set my book aside to see what pearls of wisdom this young man needed, especially when it came to treating my daughter like a princess. It started well.  Dan talked, asked my opinion and I responded.  This was good until I realized the tone and direction were changing. He was circling around a sensitive topic and looking for a place to land.  The topic? You guessed it and so did I, he wanted to ask for my blessing to marry my daughter.
Maybe it was God who gave me the discernment of this new direction and maybe He wanted to see how I would respond.  Well, like any good father I took it in stride, said yes and shook his hand. NOT ON YOU LIFE! Every time Dan tried to come in for a landing I shot us off in another direction. I was loving this! Eventually he got real close, but the day was saved when one of our friends called everyone to head out for a hike. "Mr. Black", Dan said (I liked his respect. The Right Honorable Mr. Black would have been better but I was okay with Mr.) "Can we continue this conversation later?" "Sure", I said, thinking in my mind, 'much later.'

Video: How can you affair-proof your marriage?
Guarding your marriage: Do a Life Lesson on love

It took some work and talking but Dan finally got me to return to 'the conversation'.  Alas, I was tired, he was anxious and I could only imagine how Aubri was feeling so I let Dan ask the question.  As a good father I took it in stride, said yes and shook his hand. NOT ON YOUR LIFE! He asked and I said "No".  The confused look said to me this was not the expected answer.  "No?" he said. "No", I said.  Did I mention I was loving this? "You two need to think this through. Once you do, I want to see 12 indicators why now is a good time for you to marry."  Aww, that felt good and bought some time; hopefully a lot.
That was not to be for the very next day my daughter and Dan approached me together as I sat in my reading chair. Odd to have them both approach me and realizing they had little time to talk I thought they must want to ask again and I would get to say no again.  Was I surprised when they handed me a typed list of 12 indicators.  Wouldn't you know it, they were good ones.  I had painted myself in a corner and after thoroughly studying the list I surrendered; I mean I agreed to hand over my princess to the new man in her life.  Painful? Yes, but in that moment I saw in my little girl's eyes a look of sheer joy.  She was happy, very happy and to a Dad that means the world.
I caught a glimpse of how my heavenly Father feels towards His kids, protective, loving and full of joy, when He shares those moments with us in our happiest state. WE are doing all we can to help them in their relationship including sending them to a Marriage Getaway called Weekend to Remember http://powertochange.com/familylife/events/weekend-to-remember/gift-certificates/.
And Dan?  He is great. A son-in-law I am proud of, love to hang out with and so glad he joined our family.  Hey and I like my new name: the right honorable Father-In-Law. Actually no it is Dad and to me that sounds really good. I'm glad I finally said yes.