Say Yes to Sex More Often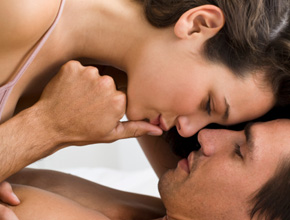 If sex is important in marriage, why does it slowly get put on the back burner?
One excuse that I am sick of hearing is "I don't have time." I'm sure you are busy. I know I am busy. But think of all the things that you make time for. If you really wanted to have sex you would make the time. So what is stopping you?
Take some time to really think about your reasons.  What is it, specifically, that is getting in the way of your sex life? Take those reasons and discuss them with your spouse. Discussing sex expectations and desires is a good thing. Often we don't talk about sex until we are about to have it or we've just had it.  But neither of these times are the best times to have an in depth, honest and caring discussion.
Why can't we talk about sex at other times? Why can't we make the effort to improve our sex life? We are willing to discuss other aspects of our relationship, so I think sex should be included in that list. God made sex. He doesn't have a problem with you talking about it with your spouse. In fact, I think he would encourage it.
Too much of a good thing?
A little while ago in the newspaper, I saw an article about a married couple that is having sex five days a week for 260 days. They are blogging about the experience. When I read that I thought: "Oh my goodness that couple is crazy! What are they on?" Then I read a little further and the article mentioned how they are becoming closer than they have ever been. That got me thinking. Why is having sex five days a week such a big deal?
I read another study that said that short sex more often is more satisfying. I was skeptical of this statistics. After all, how did they get their information? I wasn't sure what to think. So I've decided to take a different approach to statistics. I am going to try them out for myself. Why not? If this is true, it renders the excuse "I don't have time" useless.
Considering all this I looked at my own life, and I was feeling like a sex-starved wife. One of my love languages is physical touch. However, we got to a point in our marriage where we were rarely having sex – five days a week sounded like insanity to me.
Finding the real reason
I thought my husband had stopped wanting to have sex because it seemed like he was never interested. But what really happened was, he had given up on trying. He had asked me many times and more often than not I had said no. He could no longer handle the rejection so he stopped asking. Neither of us stopped wanting to have sex, we simply couldn't match up those needs at the same time. And that was a big problem. The solution? Being available. Being ready. Being selfless.
I have to put my needs aside and realize I am not the only person in my marriage. If I want my husband to be concerned with my needs, then doesn't the flipside of that also matter?  I need to be concerned with his needs. If my husband wants to have sex why am I saying no? There are days when circumstantially it is not a good idea and no is the appropriate answer. But saying no without reason means something else is wrong. Something else is going on and it is important to figure out what that something is. No two people are the same. Your reasons are probably different than my reasons.  The important thing to is to figure out your reasons and talk to your spouse so you can do something about it.  Sex is a wonderful gift, a joy shared between spouses who have promised each other forever.  Who says no to that?
Related Readings:
Help! My Husband Doesn't Want Sex
Spicy Sex