Not Your Grandmother's Gospel Tract
When someone mentions the phrase "gospel tract," you may picture a little old lady handing out Christian pamphlets.  Maybe you remember those embarrassing stories we've all heard about Christians who leave their restaurant servers gospel tracts instead of tips, thinking they're doing them a big favor.  Maybe you shy away from gospel tracts because they seem old-fashioned, or awkward to use.
The truth is a gospel booklet can be a very helpful evangelism tool when used the right way.  (This video explains a few reasons why I like to use them)  The most important thing to remember is timing.  Imagine you're a salesperson.  When a customer comes in to buy a car, you don't start by whipping out a sales contract.  You give them a chance to admire the car, check out its great features, take it for a spin.  You wait until they've fallen in love with the car before you start explaining the details of the transaction.  It's the same with a gospel tract.  Don't rush it.  Wait until you've had a few spiritual conversations with your friend.  Invite the Holy Spirit to guide you.  When you sense the time may be right, ask your friend whether they're interested in learning about the message of Jesus.  If your friend says, 'Yes,' you can hand them a gospel pamphlet and offer to go through it together.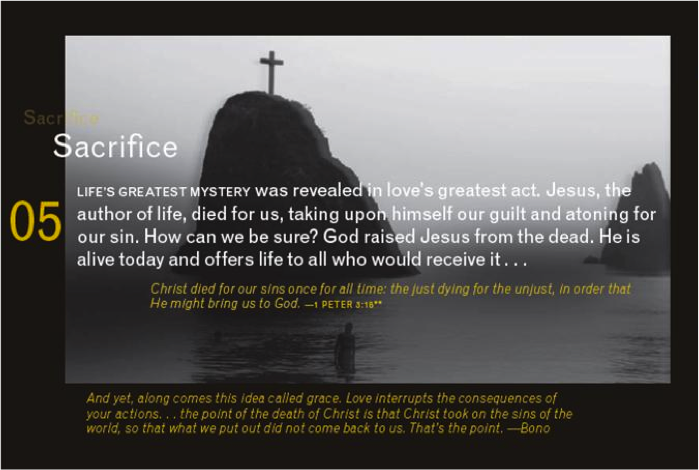 Take Action:
Backstory is an excellent new booklet put together by our partners in the States that communicates the gospel story in a clear, relevant, and engaging way.
Go through the Backstory online study, a web version of the booklet.  Does it give you any ideas for how you could explain the gospel to a friend?  Try to send the link to a non-Christian friend you've been engaging in spiritual conversations.
Considering ordering full-color paper copies of the booklet so you'll have them when you need them.
Watch Mark Gauthier, Director of the US Campus Ministry, talk about how to use the Backstory tool to share your faith.
Serving together,
Leonard Buhler