powertochange
RT
@gainusa:
Join us as we continue to pray for all the lives affected by the Oklahoma tornadoes.
22 May
Ministry News
Coffee House Nights
"Prayer plows ground," says Emmie Stanley of Breakthrough Prayer. "Seed goes in and that's when the harvest comes. You start with prayer and something's going to happen next."
Well somebody must be praying because things are certainly happening at Breakthrough Prayer. In the past three months, Emmie Stanley and her team of committed volunteers have hosted three separate coffee house events at Power to Change headquarters in Langley, BC. They've seen:
280 guests
45 volunteers
35 people receive prayer ministry
19 decisions for Christ
Art Show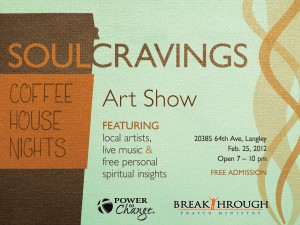 150 people came to the Art Show in February that housed around 80 pictures from a dozen artists.The art was used to engage people in spiritual conversations using the pictures as a way to get the people thinking about their personal soul cravings.
Fashion Show
The Fashion Show focused on women who are single moms or coming out of recovery houses.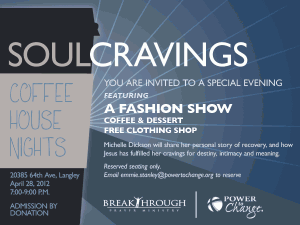 Breakthrough Prayer advertised at places like food banks and homeless shelters. That night saw an astounding 18 people get saved. Many were blessed by the generosity of others who donated "stacks and stacks" of clothes.
Intercultural Encounter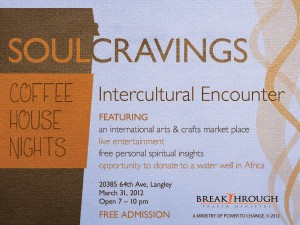 There were a variety of different kiosks at the Intercultural Night, which included 10,000 Villages among others. Vendors raised money for homeless shelters and children's needs in other countries. "My favourite part was the prayer ministry: at one point we had three teams praying and 10 people lined up for prayer." The night also featured a band singing in Spanish.
"It was a lot of fun," remarks Emmie, "[The three nights] demonstrated how an evangelistic coffee house can mobilize people for the Great Commission and how we can actually share the Gospel with the community and demonstrate the love of God in practical ways."
---
STAY CONNECTED
Power to Change Newsletter
Upcoming Events
Weekend Getaway
October 18, 2013
Saint-Sauveur , QC
Weekend Getaway
November 1, 2013
Blue Mountain, ON
Weekend Getaway
November 15, 2013
Jasper, AB