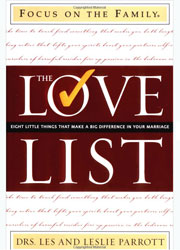 Are you a list maker? I'm married to one! He takes great delight in checking off tasks he's completed.   Lists energize him, while I sometimes feel I don't need more "stuff" added to my daily list of things to do. Whatever my personal bias against lists, I tried to keep an open mind when I started reading The Love List: Eight Little Things That Make A Big Difference in Your Marriage by Drs. Les and Leslie Parrott.
We all say marriage is a high priority, but if you're like me, you don't always see evidence of this in a daily or weekly calendar.  Having been married for 34 years, I wonder sometimes whether my marriage isn't already "good enough."
Last night, my husband sat down with me at dinner and thanked me for keeping clean socks in his drawer!  His appreciation was genuine and his kind words warmed my heart.  He also did something that made me laugh later in the evening; which drew us closer emotionally as a couple.  He hadn't even looked through the book, but was already practicing what I'd read! As I thought about why these simple things meant so much, I was reminded how we often start to take each other for granted in marriage; that is NOT a good thing!
I have to admit I was a bit skeptical when I first started reading the book, but being the recipient of appreciative words last night made the concepts come alive for me.  Consequently there is a reason why my computer calendar will be sending me a few more automatic reminders from now on.  (You'll have to read the book to find out what they are.)
Overall, I recommend The Love List as an easy read with practical applications that work!
Here's a suggestion for your own "To Do" list: come and hear the Parrotts speak at their "Becoming Soul Mates" conference June 22nd at the Langley Events Center. For more information and registration please visit: www.worshipvancouver.com