How It Feels To Be Free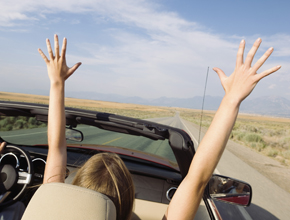 I am in the process of buying my very first home. I've rented for 12 years and finally – amazingly – it's time. The offer has been made and accepted and if the home inspection passes they're going to give me the keys. The last two places I've lived in I've had to move out on someone else's schedule – once because the house was sold and this time because the landlords want to move in themselves. If this purchase goes through I'll be free to stay as long as I like.
As I was driving to work the other day I was dreaming about the living room in this home that might be mine. I was rearranging the furniture in my head when I suddenly realized that as an owner, I could add built in shelves. My hand flew to my mouth in shock and then I started to giggle.  Built in shelves, I've never been able to do that before. I've never even really considered it but now this luxury is a real possibility.  It's a small thing, and also not a small thing. It's a freedom.
Feeling free
When do you feel free?  Freedom can be day at the beach or a fast car on an open highway. It can be that one night when you have the house to yourself, a boss who allows flexible hours or a child who sleeps well.
Sometimes freedom is in the little things; other times freedom is a huge, fundamental thing. Freedom is not being incarcerated.  It's the passport that lets me move across international borders. Freedom lets me walk down the street without a veil. Freedom means that unlike my sisters in Uganda, I am not disfigured as an act of war.
If I'm honest, I don't think about my freedom all that much, but when it's called to my attention is it a bright, beautiful thing. I need to pay attention. There are entire worlds wrapped in those three little words, "Yes, you can."
Freedom is personal
This week we celebrate freedom and independence on a national scale. We remember the mortal cost of those who fought so that we don't have to. Most of us will get a day off and we'll have leisure time – one of the freest experiences of all.  In between the barbeque and fireworks, time with family and time to sleep in, take a few moments to think about your own freedom.
What are you thankful to be free of this year? Is there an old worry that you've conquered, a debt paid or relationship restored? Which areas of your life are still lacking freedom? Does a past relationship still cast a shadow on your current love? Is there leftover bitterness that binds you? Is there an addiction that lies in wait or a lie that your heart just can't shake? Make today your independence day.  Claim your freedom.
Recently I heard someone say, "You can't be tempted by what you don't consider."  What are the thoughts that are tempting you today? Do you need a little freedom from them? If you'd like some help with that take a look at the freedom worksheet.  When you fill in your answers and submit the form you'll be matched with a coach who will respond.  Lessons are free and you can talk to your coach as often as you like.
All freedom comes with responsibility. (If the deal on the house goes through I'll get the freedom of ownership and the mortgage that comes with it.) American poet Robert Frost said, "You have freedom when you're easy in your harness." Whatever circumstances you find yourself in, my hope for you this week and throughout the year is that the responsibilities you have been given will sit gently on your shoulders.  If you're not feeling very free today, come talk to a mentor.  Mentoring is free and confidential.
Take the next step:
Do you have baggage? Freedom is a choice
Finding freedom in forgiveness
Watch: How I found freedom