Living the Entrepreneur's Dream
Profile on:  David Browne, retired CEO of LensCrafters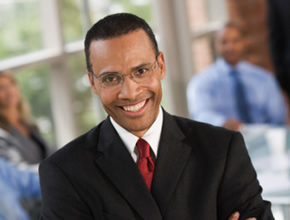 At the tender age of 29, David Browne was living every entrepreneur's dream. As CEO and President of LensCrafters, the multi-million dollar eyewear company he co-founded, every sign indicated that his star would continue to rise. However, even though David admits he thought of himself as "hot stuff" at the time, he couldn't have been more miserable.
So what was the problem?
David was having an increasingly difficult time reconciling his Christian faith with his business success. While the former told him to put God and people first, the latter made the bottom line king. If people or ethics had to be swept aside in order to achieve a profit, so be it. So even while David had achieved success according to the world's terms, he sensed he was nowhere near as successful as he could be were he able to reconcile these two facets of his life.
David's problem began while growing up in the church, during which he had somehow picked up the idea that faith and business didn't mix. Thus, he fell into the habit of applying one ethical system in his personal life and a completely different ethical system at work. But through an intimate encounter with God, David began to realize that there might be a way to bridge the two worlds after all. In fact, applying Christian principles to business just may be the only way to win both morally and by the measures of the world.
Adopting a NEW formula
The key to David's realization was the servant leadership model of Jesus Christ. After reading Matthew 20, David felt God calling him to throw out the CEO textbook and follow Jesus' example of servant leadership instead. David didn't buy the idea at first. "I said: that's not what CEOs do. They don't serve others; they rule the roost! But I couldn't have been more wrong." But he eventually decided to give it a try.
Back at work, David called his leadership team together and admitted he had blown it. He hadn't made their lives as rich as he should have, because he hadn't been the kind of leader God had called him to be. Consequently, David declared he was going to reshape the business by implementing a servant leadership model whereby he would strive to empower and encourage others instead of merely using them to fulfill his own objectives. Not surprisingly, David's employees were skeptical at first. Says David, "I was a classic numbers-only butthead who could do everybody's job and was proud of telling them that. But now I wanted to serve folks, to help them be the best they could be."
He is serious!
Despite their initial doubts, it didn't take David's employees long to realize he was serious about the change. Their confidence in his plan increased as they witnessed the positive effect this new leadership model was having on the company. David was also impressed. "Walking the walk [of faith] in the business world in terms of servant leadership actually turned out to be more of a successful formula than any other I had seen."
Today, David has moved on to other business and volunteer ventures. But he is still convinced that if business isn't founded on faith, it isn't worth doing. "Lots of people have questions about how you can be a Christian and be a successful businessman or a successful politician or even a successful athlete," says David. "But I think the real question is, how can you really be a successful, complete person in business, politics, or in sports if you don't know Christ?"
Would you like to add a spiritual foundation to your business? Let Jesus show you how. If you don't know Jesus, we encourage you to pray the following:
Lord Jesus, I want to know You personally. Thank You for dying on the cross for my sins. I open the door of my life and receive You as my Savior and Lord. Thank You for forgiving my sins and giving me eternal life. Take control of my life. Make me be the person You want me to be. Amen.
Mr. Browne served as President and Chief Executive Officer of LensCrafters, Inc. from 1990 to 1999. , during which time he helped it grow into the world's largest optical company while building a service culture recognized by Fortune Magazine as one of the top 100 companies to work for and by the White House for its Gift of Sight philanthropy work.
From 1998 to 1999, he also served on the board of directors and as Co-Chief Executive Officer of Luxottica Group, an Italy-based optical frame manufacturer and the parent company of LensCrafters, Inc., where he led the acquisition of Bausch & Lomb's Ray-Ban Division. Mr. Browne is also a director of Athletes In Action, an international Christian sports ministry, the National Underground Railroad Freedom Center, and a former member of the board of directors of the Points of Light Foundation in B.S. degree in Economics from University of Pennsylvania in 1981.