Entering a New Orbit (Coming Home Part 3)
This is Part 3 of a 4 Part series, Coming Home – An Essay on How to Relate to God.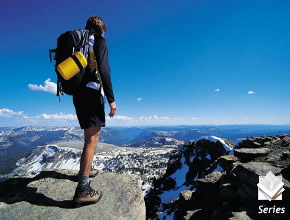 Entering a new orbit
D. Elton Trueblood, author, educator, philosopher and theologian states succinctly the magnitude of this change: "The new character, being finite, can still make mistakes and actually does so; but that is not the primary fact. The primary fact is that all of the person's powers are employed in a new way and that his movements are dignified by a new direction. He is a wandering planet which becomes stable in its movements by entering a new orbit."
As a new creation, we soon realize that our relationship to God has become wonderfully personal. We begin to actually experience his great love for us.  (It was there all along – we just didn't know it!)  We no longer walk independently – doing our own thing.  We gladly submit to him, understanding his purposes for us are altogether good.  We can trust him.  Without reservation we can say as the Apostle John said, "We love him because he first loved us."
I now realize this is what happened to me, back at my point of surrender.  I had been far away, but through the generosity, patience and mercy of a loving father, I was brought home.  I was welcomed into and made a member of God's own family.
Following Christ
As I understand the Bible, what I have just described is the initiation into a new, vital and personal relationship with God.  You will notice I said nothing about trying to be "good enough."  I've said nothing about earning this relationship, or even doing enough good deeds to deserve it.  We do not come to Christ simply by affiliation with a religious institution or by following tradition or by being born into a Christian family.
Our new relationship is a gift of God, given freely and specifically to the person who comes to Jesus. To re-emphasize a key point, it is essential to see that our surrender to Christ requires a decision. (This privilege to choose is entirely consistent with the capacity we were given by God to exercise our wills freely.  Thus we can likewise decide to reject God's offer to us.)
Does what I've said seem disarmingly simple?  Unfortunately, the concept of yielding to Jesus as Lord and Christ – and thus receiving his remarkable salvation – has been so obscured, so wrapped up in extra ideas and extra words that many have been robbed of the wonderful simplicity of its truth.  How important it is that we not allow this to happen to us.
What God did in Jesus
While it is true that the message of salvation is not complex, we must not underestimate the incredible sacrifice Jesus made to open up the way home for us.
It might help to take a fresh look at this watershed moment in history.  God creates man, and almost immediately man falls through rebellion.  Then after thousands of years of preparation, at just the right time, God impregnates a young virgin girl named Mary who was engaged to a carpenter named Joseph.  A son is born, the Son of God himself.
Facing the temptations each of us faces, Jesus grows up without sin.  About age 30, after some fifteen years working as a carpenter, Jesus leaves his trade to begin proclaiming the message of his heavenly father's kingdom.  Thousands follow him, scores are healed, even the dead are given back life.
Then the religious establishment, in collaboration with the government, arranges his death on trumped up charges.  Jesus is betrayed, arrested, tried, whipped and crucified.  He does not fight back, though he could have summoned huge armies of angels to rescue him.  Rather, he goes to the cross voluntarily. In the words of the prophet Isaiah, he is led like a lamb to the slaughter.  He dies.
Three days later, to the astonishment of even his closest followers, Jesus is raised from the dead.  He appears to hundreds of people, and after forty days, before the eyes of his incredulous disciples, goes up into heaven where he is reunited with God, his father, to become both Lord and Christ.  He then extends to us the possibility of becoming his followers – new creations!
Who can say this is not utterly amazing? I'm not sure the human mind can fully take it in. Yet this all occurred, very literally, for one central, majestic reason – so you and I can reestablish the kind of personal relationship with God that he intended from the beginning.  He made it possible to come home.
The way home
Let us look more closely at the process by which one becomes reconciled to the Father. (I have no intent of reducing this to a "formula."  Being rightly-related to God is far too profound and deeply personal.  Yet there are essential elements, or steps.  Any, if absent, may result in an incomplete or ineffective second birth.)
First, we must admit that we are separated from God. That chasm mentioned earlier is both wide and deep.  We received a fatal defect at birth and as a result, have lived our lives independently from him.  If we can't come to grips with the reality of the sin that separates us from God, we'll never come home spiritually, for there is no need for a savior.  Your statement before God might simply be, "Dear God, I realize I am separated from you by a nature flawed by sin.  All the human effort in the world won't change that."
Second, we need to candidly acknowledge our sins (plural). This is essential preparation.  When we acknowledge, or confess our sins and consciously determine to turn away from them, or repent, God hears us and extends his mercy.  Out of his great love for us he forgives our sins.  The person who humbly opens up to God in this way will feel wonderfully clean from the accumulated filth that collects in our souls and spirits over a lifetime of living independently from God. In your own words, confess your sins before God.
Third, we need to acknowledge who Jesus is. He is not just a good man, a great teacher, an inspired prophet.  He is the Son of God.  He was born of a woman who had never been sexually involved with a man.  He led a sinless life.  He died.  He was buried.  He rose again.  He ascended into heaven where he became both Lord and Christ.  Nothing less than this Jesus will do, for only he is qualified to be the remedy for sin.  We need to believe this, and declare it: "Jesus, I acknowledge you are the perfect, sinless Son of God, Lord over all, the savior of mankind.  I realize you love me, and you have been drawing me to yourself."
Fourth, we need to fully yield to him, accepting his sinless and saving life into ours, responding to his initiative to establish a new and personal relationship with him.  Our surrender is a choice – an act of our will.  Though we do not merit Jesus or the new life he offers, because of his unfathomable love for us, he receives us as we are and gives us a new nature, replacing the old.  He invites us into his kingdom and we become a new creation.  By a step of faith, a remarkable transaction occurs and we become a changed person.
At this point the root problem of sin has been dealt with in our lives.  We take on his life – a  life with a whole new quality to it. Jesus put it succinctly: "Whoever believes in the Son has eternal life."  Something of heaven itself – alive, active and imperishable – indwells the new believer.
If we've approached him as I've outlined above, Jesus absolutely will transform us, reconciling us to our heavenly father.  We see this assurance in the gospel of John: "To all who received him, to those who believed in his name, he gave the right to become children of God."  This, to me, is the greatest miracle we could ever imagine – truly coming home to our father in heaven – for all this means in this life and in eternity.
Next: Part 3 – A Lifelong Journey