A Lifelong Journey (Coming Home Part 4)
This is Part 4 of a 4 Part series, Coming Home – An Essay on How to Relate to God.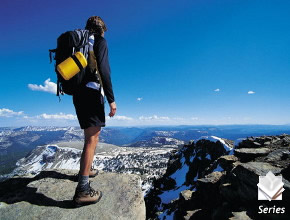 A lifelong journey
Fifth, and finally, we begin to grow into the new life he has promised us. The Bible refers to this as "maturing in Christ." The new birth is an act.  Following Christ is a lifelong process.  If we earnestly follow him, we will never be the same.
The believer in Christ becomes wonderfully different.  He learns and grows as a newborn child. He realizes that God himself, who previously seemed beyond his grasp, is really his loving father who desires a close, personal relationship with him. But he is also a righteous God, a God to be revered, and who has established standards by which we are to live.
Through this new relationship, the transformed life emerges. Harmful habits change.  Attitudes, thinking and language move to a whole new level.  Motives are purified.  Selfishness gives way to service.  Relationships with others are restored.  Bitterness, envy, jealousy and hatred diminish as love increases.  Not overnight, but steadily, progressively.  Profound changes are underway.
The new believer desires to get together with others who also have a faith in Christ. Fresh bonds of trust, love and mutual respect are forged. The Bible, God's own inspired word to us, becomes a close friend, relevant and understandable – a totally reliable point of reference.  We realize God has also given us his Holy Spirit, the indwelling presence of Jesus himself, to be with us the rest of our lives.
But there are also fresh challenges.  Old habits and old associations don't change easily.  Conflicts arise, within and from the outside.  We realize we are contending with spiritual forces that oppose us.  We doubt.  We may encounter discouragement.
Yet it's different.  We're not alone.  The Lord himself is committed to help us on our journey – to guide, instruct, correct, discipline, and encourage us. It's different because a new foundation has been set in place – and that foundation is faith in Christ. Steadily, progressively, we grow.  Amidst challenges (which we never outgrow), we can be certain about our new bond of friendship with Christ. How wonderful and reassuring are his words to those who follow him: "Never will I leave you; never will I forsake you."
In time, the transformed life impacts everything we are and do.  Recall the relationship Adam experienced with God before the fall.  Would not the Lord want to see that kind of fellowship restored, even in our work?  As one business owner commented in an interview with the Harvard Business Review, "I would love to get the workplace as close to the Garden as possible, knowing we can't.  But I shouldn't stop trying." (HBR, Jan-Feb 1999.)
Alan's story
When I think about the transformed life, I think of Alan, a colleague in our industry. While he was doing well in his professional life, he was really struggling personally.  Setbacks, both at home and at work, had left him discouraged, searching for something more. One of his customers told Alan about the radical change that occurred when he yielded his life to Jesus. Alan listened respectfully, but didn't see how this applied to him.
One morning during a trade show, Alan and I arranged to meet over breakfast. As Alan poured out his difficulties, I could see that he longed for personal peace. I shared my own story, including my decision to follow Jesus. Right at the breakfast table, Alan took that same bold step I had taken years earlier.  When he did, the change in his countenance was immediate and profound.
Alan and I have stayed in touch, enabling me to see his steady progress. Recently, we celebrated the third anniversary of his coming to Christ – again over breakfast at our annual industry trade show. I saw a man whose life is peaceful, rewarding and purposeful. Though he continues to work through challenges, he knows he's been transformed, experiencing a joy and freedom he never knew before.
Conclusion
It is no accident that you have received and are reading this essay.  Maybe you've been searching for truth.  Or maybe you've begun your faith journey but need to solidify basic understandings.  Perhaps you've been a long way from home, as I was years ago – uncertain about life's purpose, its end, about eternity. Wherever you are, the adventure of growing and living in Christ never ends, but that process must be firmly rooted. The essential foundation is the transforming step of coming to Christ that I've described here.
The next step is yours. I urge you to rise to the challenge.  If these thoughts and words are a help, please reflect on them, and by God's grace, act on them.  With all my heart I believe they are your reliable roadmap to the way home.
Would you like to experience the adventure of growing and living in Christ?  Pray the following prayer today, and accept John's challenge today.
Lord Jesus, I want to know you personally.  Thank you for dying on the cross for my sins.  I open the door of my life to you and ask you to come in as my Savior and Lord.  Take control of my life.  Thank you for forgiving my sins and giving me eternal life.  Make me the kind of person you want me to be.  Amen.