Conversing with God through the Bible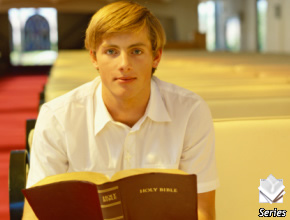 This is a 4 part series: Conversing with God through the Bible
Most of us have received an e-mail, a letter, or a note from a friend. A lot of times when we receive one, we can't wait to see what the writer has to say. We open it up and can't wait to see the emotion and thought that the author of the letter has poured into it. It's the same thing with the Bible – it's just that the person behind each note is God. And the notes aren't only about God, they're also about who we are.
Coming into conversation with God
Eugene Peterson puts it this way,
"Reading is the first thing, just reading the Bible. As we read we enter a new world of words and find ourselves in on a conversation in which God has the first and last words. We soon realize that we are included in the conversation. We didn't expect this. But this is precisely what generation after generation of Bible readers do find: the Bible is not only written about us but to us. In these pages we become insiders to a conversation in which God uses words to form and bless us, to teach and guide us, to forgive and save us."
We don't usually look at what we read in this way. When we read a favourite magazine, webzine, or a book, we're reading things that provide us with information about certain topics or take us away into another world. This book goes beyond that – this book reveals a God who can change life in every way.
Experiencing a world of revelation
Eugene explains,
"This [book] is different. This is a world of revelation: God revealing to people just like us – men and women created in God's image – how he works and what is going on this world in which we find ourselves. At the same time that God reveals all this, God draws us in by invitation and command to participate in his working life. We gradually (or suddenly) realize we are insiders in the most significant action of our time as God establishes his grand rule of love and justice on this earth (as it is in heaven). 'Revelation' means that we are reading something we couldn't have guessed or figured out on our own. Revelation is what makes the Bible unique."
Next: The Practice of Spiritual Reading

Text taken from the Introduction to THE MESSAGE REMIX: The Bible in Contemporary Language.  Copyright 2003 by Eugene Peterson.  All rights reserved.  Used with permission of NavPress, a division of The Navigators.