Oldest Canadian: A True Hero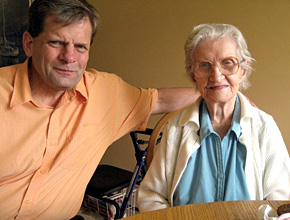 Elizabeth Buhler, then the oldest Canadian living in Canada, was just weeks away from her 112 birthday when she passed away. In a write-up for the National Post, Joe O'Conner said:
She deserves a medal, a badge, a eulogy from the Prime Minister and a half-page entry in the Canadian Encyclopedia under the heading: "An Extraordinary Ordinary Life."

Elizabeth Buhler died on Sunday at the Salem nursing home in Winkler, Man. She was 111, and turning 112 on Feb. 8.  She buried her husband in 1970. But she lived on, and on. She had six children, 23 grandchildren, 55 great-grandchildren and 39 great-great grandchildren. Her secret, she always liked to say, was exercise, cookies and homemade chicken noodle soup.

Questions about faith? Bring your doubts
Why would I need faith?: Find some answers
Talk about a life well lived! Underneath the hard work and a great heart lay the faith that sustained her through a life that "spanned three different centuries, two separate continents, a Russian Revolution, a Great Depression and two World Wars."  She was many things to many people, but to me she was my Grandma.  I had the great priviledge of speaking at her funeral, and describing what made her so special beyond her age.  Yes she was my Grandma and yes she was, at the time of her death, the oldest living Canadian. But beyond all that, she was a hero.
What is a hero?
Let me begin by defining a hero. A hero is someone who commits themselves to something larger than themselves. What would one of the oldest citizens of Canada tell all of Canada if she had the chance today? I think she would give a huge welcome to all of Canada's new immigrants because when the Buhler family came to Canada nearly one hundred years ago we were welcomed with open arms and given assistance by many people. Although life was often difficult she would tell you that we as a family and as a people of Canada have stood together over the years and supported each other in freedom and love.
She would say "I have extended love and care for everyone who needed it. I have prayed daily for my family, my community and our country. I want to say that the one thing that has remained consistent over the last century even through wars, murder, revolutions, persecution, theft, drought, death, economic difficulties, industrialization, and now even through the technology revolution what has remained the same is God, the Bible, my relationship with Jesus, and the peace, joy, and comfort he has given me."
Grandma committed her life and family to what mattered most to her: To love others by bringing Jesus and his love into every conversation. She committed her life to prayer for family, friends, and our nation. She offered love and care for every person that came within range of her and of course those people instantly became part of her prayer life. She believed in every way that the impact of this commitment through the generations could impact a nation and possibly even the world. I myself am the fruit of her life. I have committed my life to serving with Power to Change to impact future generations of Canadians.
In one of my inauguration speeches -where I accepted the responsibility to lead- I described the rich spiritual history and legacy of our family. A woman who came to congratulate me said this: "It is about time that men like you with the rich spiritual history step up to plate and stand in the gap for our nation." The comment had a profound impact on me. Many of us like myself with this rich upbringing left by our parents and our grandparents waiver on the opportunity to stand in the gap for our nation.
An eternal impact
I of course am only one of the hundreds if not thousands of people Grandma impacted. Gus Konkle, president of Providence Bible College, lived in Grandma's home for two years as a boarder, but after that could never get away from Grandma's love and prayers. I have to think that God put people like me and Gus -both major Canadian leaders- into Grandma's life as a way of answering her prayer for the nations. In turn she lifted us up in prayer.
Grandma walked and walked with God, praying and reading scripture endlessly. As her eyes deteriorated she would listen to the Bible on cassette tapes. Every couple of years the tapes would  wear out and we would have to replace them. One day when I phoned her she picked up the phone as though it had woken her up. I asked her to pray for me, and during the prayer she lost her train of thought, however she continued speaking but the words that kept coming were scripture. Imagine if every one of us knew as much scripture as Grandma did, and when we lose our train of thought only scripture would come to mind! Imagine that, her mind was so full of God and scripture that when her mind began to slip all that was left were God's words.
Grandma certainly experienced evil many times in her life. In the Bible, chapter 1 of the book of Revelation was written by John when he was on the island of Patmos. It was there God showed him the future. My favorite part of a visit with Grandma was when I asked her to pray for me. When Grandma prayed for me her countenance changed and it felt like she was in the spirit. She looked up to pray and it felt like she could see God.
Do you need prayer? Contact us and we'll pray with you
Early one morning, about 10 years ago, I was coming into Winkler for breakfast and I saw this old woman walking down main street. It was my Grandma. And so I stopped to see if she was alright. She looked up and said "Oh it's you Leonard, I was just praying for you." It was as if she knew I was coming, where I had been, and what I was doing. She was in another world, a spirit world. It felt like she was in the presence of God.
My Grandma, a true Canadian hero.
Related:
Leonard Buhler's story: How I increased my capacity for leadership
Why would I need God?: What's God got to do with it? To answer that, ask yourself: What does your soul crave?