Rich Enough To Retire But Choosing Another Option
Profile on: Scott and Vicki Gillis. Scott holds a top level job with AIG Sun America, Scott and his wife Vicki also run their own real estate company.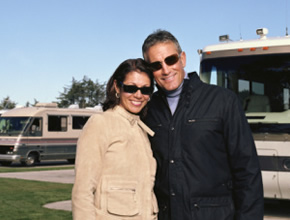 Considering that most people's goal is to make as much money as possible so they can retire as early as possible, Scott Gillis stands out as somewhat of an anomaly. Even after making more money than he could ever hope to spend, not only does Scott continue to hold down a top level job with AIG SunAmerica, he and his wife Vicki also run their own real estate company on the side. So what gives? Does this guy really love work and money that much?
That was certainly true when Scott was just starting out in the accounting field. "My focus was really to make a name for myself… rise to the top of the ladder," Scott says. In fact, he took his first job out of college with Price Waterhouse, because, "I thought that was a way I could go the farthest the fastest." However, less than a year into his job, Scott was already seeing signs that caused him to question his ambitions. Not only was he putting in over eighty hours on the job each week, he noticed his supervisors had it even worse than he did. With virtually no life outside of the firm, they were burning out, and their families were falling apart. Realizing this was not the life he wanted, Scott started to re-examine his goals.
When a business associate heard that Scott was looking for a fresh perspective on life, he urged Scott to visit a singles group that met regularly at the First Baptist Church in Atlanta. Scott's expectations were low going in, but by the time he left that first meeting, the love and fellowship he had experienced there had him hooked. He started attending the meetings regularly, and eventually decided to become a Christian as well. This decision was the first major step toward satisfying Scott's desire for meaning. "I was out here doing all this work and producing this work product, but it didn't satisfy. I had this innate desire in my heart to be significant, to be cared for, to be part of something."
Scott's association with this group didn't just provide him with faith and purpose; it also provided him with his wife, Vicki. She and Scott were married right before he changed jobs and started working for an Oregon-based division of the German manufacturer Siemens, and then three years later for a high-tech manufacturer in the Seattle area. Although highly successful in the position, an internal political situation eventually forced Scott out of the company. For the first time in his working life, he found himself unemployed. "It was hard to deal with," says Scott. "As a man, your job tends to take on a life of its own as far as being significant. When that goes away, you have to question what is significant about your life. Is it the job? Is it your family? Is it your faith? What is it that holds your life together?" Vicki tended to view things a little differently. "I was just convinced and confident that the whole reason this was happening was because God was changing our direction."
And change their direction he did. Feeling the need to move closer to family, Scott accepted a job with Sun America back in Atlanta. The timing of the move couldn't have been better. Not long after they moved, Vicki had a miscarriage and started to hemorrhage. Had she not been close enough for her mother to rush her to the hospital, Scott is convinced she would not have survived.
In 1989, Sun America asked Scott to become controller of their entire insurance group. Even though the promotion required yet another move, this time to California, the Gillis's were convinced God was asking them to go. Scott accepted the position, along with the stock options it included. Ten years later, the company was acquired by AIG, a financial services firm. Flush with cash from the buyout, Scott could have retired, as did his boss and many of his fellow employees, but he and Vicki felt that early retirement was not God's desire for their lives. "We just determined that there were so many more things we could do from the position of having a job, staying working, and being able to give our resources away," says Scott.
The Gillis's had already been using their resources to help other people for years. Now they just had more money to work with. This desire to help others is what led them to start their own real estate company. Recognizing the need to provide low-cost housing to single mothers and other people of limited means, the Gillis's started acquiring real estate, some of which they rented at below market value, as needs were brought to their attention. Using the proceeds from the sale of their SunAmerica stock options, the Gillis's also started their own charitable foundation. Through this foundation, they have funded schools and fed and clothed people around the world. A few years ago, they took their charitable efforts one enormous step further by adopting three underprivileged boys from Russia. "It was really, really rough, but we were absolutely convinced we were to do it," says Vicki.
Today, Scott continues to hold down his job with AIG SunAmerica in addition to all of his other responsibilities. He manages approximately 250 people as well as the finances for a company with over $250 billion in assets. Despite those lofty numbers, Scott has no illusions about the role money plays in his life. "I wouldn't consider the greatest reward to be money. It's a way of keeping score. It's thrilling to get paid and to succeed, to see that keep growing. But the greatest reward is not what you get for your work; it's what you get by your work.  It's what you can do in people's lives with your time and with the money you earn; that's what givesyou the greatest satisfaction in life."
Have you found success but missed out on meaning? If so, you may want to follow Scott's example and allow Jesus to give you a fresh perspective. If you don't know Jesus, we encourage you to pray the following prayer:
Lord Jesus, I want to know you personally. Thank you dying on the cross for my sins. I open the door of my life and receive You as my Savior and Lord. Thank you for forgiving my sins and giving me eternal life. Take control of my life. Make me be the person you want me to be.