The Perfect Love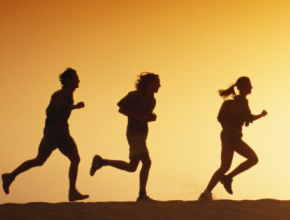 This is a story of a changed life, as told to Power to Change Ministries.
Aiming for the Olympics, Michelle pushed for perfection – only to realize she had to conquer a severe eating disorder.
"This can't be happening," Michelle breathed, every muscle in her body straining ahead. A passing sprinter spliced the air to take the lead.
Michelle was expecting some tough competition, but not now. Not at the 200 metre mark. "Focus. Visualize, just like you always have. Push it." Michelle rounded the last corner. "This is it. Either you're a winner or you're a loser." She edged ahead and her feet pounded past the white line first. She looked for her mom and dad in the stands. They stopped hugging to wave.
It was her second Indiana state championship in the 800 metres. And the tenth fastest high school time in the nation. Friends cheered and cameras flashed. "But it still could've been better," a voice inside Michelle scolded above the hype.
Big dreams
In Spencer, Indiana, where sports are almost as big as corn, Michelle Spinks was a small town hero. They put her picture – nearly life-size – below the scoreboard in the high school gym. "It was overwhelming," Michelle admits. "But it was what I wanted. I wanted to be significant and to be remembered."
Sorting through scholarship offers from more than 50 schools, she chose Purdue University, two hours from home. "The coach there told me if I followed his work outs, I'd be in shape for the 1992 Olympic trials. I trusted him. And I trusted myself."
But her first race at Purdue was a crushing disappointment. She finished, limping, with her first loss ever in the 800 metres. A bone scan revealed a stress fracture in her left leg which meant no running for three months. "Gain five pounds and it's over." her coach warned. "I've seen too many girls get hurt and gain weight. They're never the same."
So Michelle made a list: bagels, tuna, fruit, salad, skim milk and pretzels. Eating only these foods, she came back to the track leaner and more determined. "I felt in control. I liked it when people noticed I was skinny; all the best runners are."
Who to trust?
After practice one day, Michelle collapsed in her dorm. At the hospital, the doctor told her it was a virus, but he couldn't figure out why her body wasn't fighting it. He gave her an IV and hoped her fever would break by morning.
Still awake at 2 am, Michelle stared at the sterile white walls in her hospital room. Her gown was soaked with sweat. Her thoughts were high pitched. "Will I ever reach my goals? Will winning really make me happy?" she asked. She knew it wouldn't, but she still had to. She had to be perfect so people would love her. Even so God would love her.
She thought back to when she was 11 and had prayed to God, giving Him her heart. "I knew Jesus loved me and that He was the only way to heaven and all those good things," she recalls. "But I'd heard so many lines from coaches, it was hard to know who to believe." That night, after a lot of tossing and turning, Michelle decided that if there was anyone she could trust, it would have to be God. But she still wasn't sure how much she could trust Him.
Out of control
The next morning, the doctor threw out questions like darts. Michelle couldn't believe his diagnosis. "Anorexia? There's no way I look like those bony girls in magazine articles," Michelle thought. "This guy doesn't understand running at all." But when Michelle left the hospital that day, you could have fit a ruler between her hip bones without it touching any flesh. Three months later, Michelle suffered another stress fracture in the same leg. "Not enough calcium in your diet," the doctor said.
When her leg healed, Michelle was running up to ten miles a day. Then it happened again: a third stress fracture. "I went haywire," Michelle says. "I had no idea what to do without running in my life." To fill the empty space inside her, Michelle began eating uncontrollably. "I became a totally different person when I was alone, a monster out of control, comforting my disappointment with food," she explains.
But Michelle knew she couldn't eat like that and still run like she wanted to, so she started making herself throw up. She wrote about the first time in her journal: "I remember the first purge – I hate that word. I ate four blueberry bagels and felt terrible. I didn't want to eat them, but I couldn't stop. I felt guilty and bloated. I made myself throw up. I knew I was falling into bulimia."
People didn't see what was really going on inside Michelle because she kept up her "everything's just perfect" attitude. Two of her roommates didn't know she was struggling with the eating disorder, even though she was purging up to five times a day.
During this time, Michelle was leading a girls' Bible study. She told the girls about how Jesus loved them just the way they were, but she couldn't apply it in her own life. "Again, again, and again, I'd pray to God and ask Him to help me get out of the cycle of bulimia," Michelle says. "But He seemed so far away. I was messing up my life so bad with my disgusting habit. I couldn't believe He loved me."
Real love runs deep
Michelle's parents and a core group of her friends found out about her secret, and Michelle expected them to hate her. Instead, they offered their support and encouraged her to see a counsellor.
Michelle had gone four whole months without overeating and throwing up when suddenly, she found herself in her most frenzied fight with bulimia. "I began to think dying was the only way out," Michelle says. "I was so tired of fighting every day." Her friend Johanna knew what was up and confronted her. "I know you struggle more than you let on," she said. "In your head you know that God loves you, but you don't really believe it. Why can't you just love yourself the way God does?"
These words broke through to Michelle's heart. She had been so caught up in trying to impress her parents, her coaches, her friends and God that she had shut out God's perfect love. Now she let herself believe it, feel it.
For Michelle, that moment was the beginning of a new race. She had to fight the battle with bulimia in her thoughts, always reminding herself that because God loved her, she could love herself. She had struggled with bulimia for a year and seven months, and it took almost another year before she could eat normally again. During her last year of university, she was winning over the eating disorder, and she had her best track season ever at Purdue.
After university, Michelle packed all of her track stuff in a box and stored it away. She still runs, but just for fun. "It's something I do because I want to, not because I feel like I have to," Michelle explains. "It's a time for me to enjoy the outdoors and spend time talking with God." Today, Michelle has a special running partner – her husband Kevin, a former quarterback for Simon Fraser University in Burnaby, British Columbia.
Michelle loves cooking for Kevin and sitting down to a good meal, something she never dreamed of doing a few years ago. "And we usually have dessert," Michelle says. "I can eat chocolate and it's no big deal. I just enjoy it and that's it."
The greatest change in Michelle's life, though, is that she feels free to love herself, even when things don't go perfectly. "I'll never be perfect," Michelle says, as she begins to smile. "At least not until I get to heaven. And when I get there, the first thing I'm going to do is run right into Jesus' arms and say, 'Thank you. Thank you for loving me so much.'"
Take a look at your life.  How would you describe it? Contented? Rushed? Exciting? Stressful? Moving forward? Holding back? For many of us it's all of the above at times.  There are things we dream of doing one day, there are things we wish we could forget.  In the Bible, it says that Jesus came to make all things new.  What would your life look like if you could start over with a clean slate?
Living with hope

If you are looking for peace, there is a way to balance your life. No one can be perfect, or have a perfect life. But every one of us has the opportunity to experience perfect grace through a personal relationship with God through His Son, Jesus Christ.
You can receive Christ right now by faith through prayer. Praying is simply talking to God. God knows your heart and is not so concerned with your words as He is with the attitude of your heart. Here's a suggested prayer:
Lord Jesus, I want to know you personally. Thank you for dying on the cross for my sins. I open the door of my life to you and ask you to come in as my Savior and Lord. Take control of my life. Thank you for forgiving my sins and giving me eternal life. Make me the kind of person you want me to be.
Does this prayer express the desire of your heart? You can pray it right now, and Jesus Christ will come into your life, just as He promised.
Is this the life for you?
If you invited Christ into your life, thank God often that He is in your life, that He will never leave you and that you have eternal life. As you learn more about your relationship with God, and how much He loves you, you'll experience life to the fullest.