Learning to Love Each Other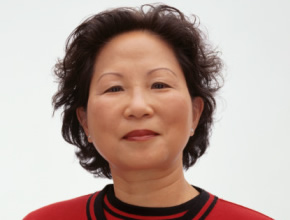 I began to learn Marxism on my first day of school. Marxism surrounded everything and everyone. It was just accepted as a natural thing, but I didn't believe it at all. I just firmly remembered what my parents told me: "People can only depend on themselves." Life was not easy in China, and everyone in my family worked hard and studied hard, straining for the future that always appeared in our dreams.
I graduated from university and got a good job as my parents expected. I was faced with world full of people who were influenced by the booming economy. People strove after money and good positions. Money had become the most important thing in many people's minds. The rich looked down on the poor and the strong cheated the weak. I learned to say good things about people, but the words did not come from my heart. One day I realized that I had become one of those people who had disgusted me, and I began to dislike myself.
Sometimes I felt confused, tired and directionless.
I felt like I was standing on the brink of a mess. How could people live peacefully with pure hearts? How could people love each other? These seemed like easy things but I knew we needed some sort of power to accomplish them and this ability escaped me. I couldn't find the answer. Once I asked my mother, but she said to me" You need too much. That's normal. It's life."
In July of 2001 I immigrated to Canada with my husband. We stayed in Toronto for three months until my husband got a job in Edmonton. We had never even heard of Edmonton! Although it is difficult to settle down in a new country, we were lucky enough to meet some wonderful new friends. It's with their generous help that our lives in Canada began soon after we came to Edmonton. Among all our friends, Jack and Carol are closest to us.
When I first met Jack and Carol, I felt at ease with them, as if we had always known each other. Nonetheless, I knew immediately that there was an invisible line between us, that according to Chinese customs prevented us from becoming friends. But we still did become friends! The closer we became, the more they surprised me. They lived so simply and with such loving hearts. Peace and happiness showed on their faces. How did they live this way? They were so different from the people I used to meet. I wanted to know the reason why and for the first time I began to think about my life.
With Jack and Carol's help I began to learn about the Bible. At first I just regarded it as a way to improve my English. But to my surprise, I found the answer to my questions. Jack and Carol can live with love and peace and happiness because there is strength inside them. And that strength comes from Jesus Christ.
Suddenly I realized the invisible line that existed between my friends and I, also existed between God and I.
One evening while we studied the Bible together as usual I read these words: "Here I am! I stand at the door and knock, if anyone hears my voice and opens the door, I will come in and eat with him, and he with me. " I closed my eyes and felt the existence of Jesus. I could hear his voice! So, I invited Jesus to my life. When I received Christ's love I felt holy, strong and joyful and my new life began. Now, I can find peace in my heart. I'm not lost any more, and I feel free.
Take a look at your life.  How would you describe it? Contented? Rushed? Exciting? Stressful? Moving forward? Holding back? For many of us it's all of the above at times.  There are things we dream of doing one day, there are things we wish we could forget.  In the Bible, it says that Jesus came to make all things new.  What would your life look like if you could start over with a clean slate?
Living with hope

If you are looking for peace, there is a way to balance your life. No one can be perfect, or have a perfect life. But every one of us has the opportunity to experience perfect grace through a personal relationship with God through His Son, Jesus Christ.
You can receive Christ right now by faith through prayer. Praying is simply talking to God. God knows your heart and is not so concerned with your words as He is with the attitude of your heart. Here's a suggested prayer:
Lord Jesus, I want to know you personally. Thank you for dying on the cross for my sins. I open the door of my life to you and ask you to come in as my Savior and Lord. Take control of my life. Thank you for forgiving my sins and giving me eternal life. Make me the kind of person you want me to be.
Does this prayer express the desire of your heart? You can pray it right now, and Jesus Christ will come into your life, just as He promised.
Is this the life for you?
If you invited Christ into your life, thank God often that He is in your life, that He will never leave you and that you have eternal life. As you learn more about your relationship with God, and how much He loves you, you'll experience life to the fullest.