Soul Cravings: Use the Questions to Share Your Faith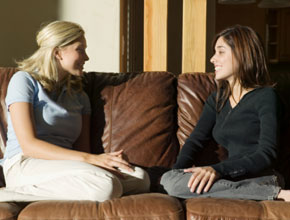 The Soul Craving Prequel discussion questions are designed to help you start a conversation. There are two ways you can use them: face-to-face or online.  Either way it's easy to use the questions in the book to start a conversation.
Starting face-to-face discussions using Soul Cravings Prequel
There are twelve questions scattered throughout Soul Cravings Prequel.  You can use any of the questions to start a conversation.   Pick your favorite question and go online to read ways to answer it. The questions make it easy to take any conversation into a discussion of spiritual things.
Scenario:  Imagine you're on an airplane sitting next to a business person.   After some introductory conversation you can use a question from Soul Cravings Prequel to move the conversation onto deeper issues.   The conversation could go something like this:
"I've been reading an interesting book that really got me thinking.  There was a  question in it that really jumped out at me.  The question was "what drives people to conform?"   It's  something I often think about as I watch people trying to find intimacy and relationships.  It's incredibly obvious among teens.  They have such a need to blend in.  It's what drives them to make so many choices that they probably don't even want to make.  I have an extra copy of this book and would like to give it to you. Do you ever wonder what it is that makes people so afraid to stand out?"
This conversation can carry on for awhile, and then in parting, you could arrange to converse again.  You also can encourage the person to talk to a mentor.  Mentors  help answer questions from Soul Cravings Prequel .  To contact a mentor, go to icravechange.com and click on the talk to a mentor button.
Let a mentor help answer questions from Soul Cravings Prequel
You may find yourself in one of these situations:
You have a heart for helping people come to know Jesus, but are uncomfortable doing so.
You want to encourage your small group or friends to use Soul Craving Prequel as an evangelistic tool in their workplaces.  You know it will be a huge step for them just to give out the book, let alone actually having the conversation.

You want to hand the book out to everyone you know such as store clerks, bus drivers and just don't have time to have the conversation with each one of them.In each of the above situations, and in many more like it, online mentoring makes Soul Cravings Prequel an incredibly easy tool to use.  Mentors are trained volunteers with a heart to make Jesus known.  If you're new to witnessing, you don't have to have all of the answers to be able to start.  Mentors can work with you to have conversation that change everything.
Scenario:
Once you've given someone the book you can let them know that as they are reading, help is available.  You could say something like, "please go to icravechange.com which is mentioned throughout the book.  You will  find great content there and you will also be able to talk to someone confidentially about your questions or comments." You can be sure that mentors will take care of the next step in the conversation.
As you're giving the book to someone, be sure to mention that mentoring is available.  You could say something like "this book has a mentoring program that goes along with it.  There are people that want to have a conversation with you.  Just go to icravechange.com and talk to a mentor"
Mentoring is free, confidential and non-judgmental.  Often people are comfortable saying things a mentor that would take weeks to work up to in face to face conversations.
Become a Mentor
As you continue to grow in confidence witnessing, consider becoming a mentor yourself.  The application along with all training is online.  You can set your own schedule and there is help every step of the way.  If you get a question you don't feel you can handle, there are more experienced mentors ready to step in and help.   We're often told that if you really want to learn something, teach it.  This is very true when it comes to mentoring.  Our mentors often tell us how their mentoring experience has improved their prayer life, taken them deeper in to the scriptures and increased their faith.  Learn more about mentoring at truthmedia.com
The questions in Soul Cravings Prequel aim to start a conversation because that conversation in the first step in a relationship that can be truly life changing.   Often the most difficult part of sharing Jesus is actually beginning the conversation.   Witnessing is a skill, and like all skills it can be learned and it needs to be practiced.  If you would like more help in learning how to share your faith with Soul Cravings Prequel, come to a Soul Cravings: The Experience training.  You'll be glad you did.