Are You in a Holi-daze?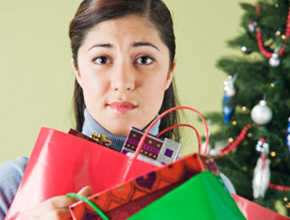 "I look forward to the holidays - and I dread them at the same time," said my friend Peg over a cup of tea. "November and December are usually a big blur. Thanksgiving comes and goes and then it's time to prepare for Christmas. Next thing I know it's the New Year. I look back and I can hardly remember what happened or how I felt."
If this sounds familiar, you, like many people, may be caught in a holi-daze. Cooking, shopping, entertaining, cleaning, organizing take precedence over all else, including personal and spiritual rituals that are a necessary part of our overall well-being.
I remember one year when I hardly looked up from October 1 to December 31. October was a month of birthdays, anniversaries, and a wedding. In November we had a family reunion at our home for Thanksgiving followed by a weekend of sight-seeing for those in from out of town. The next week began my husband's busiest retail season of the year – prior to Christmas. Then there was choir practice, holiday parties, the children's play, the family advent workshop, holiday gift swaps, and Christmas cookie exchanges.


What is Advent?
Take a lesson: Discovering advent
I was spent by the time we took down our Christmas tree and ushered in the New Year with a cup of hot cider. I wished I were a bear so I could hibernate for the rest of the winter! vowed that year that I would never again allow myself to become so frazzled. I wanted to enjoy the holidays, not merely endure them, to rejoice in them, not simply react to them. And to take time to rest – even in the midst of the excitement and celebration.
This new commitment led me back to Scripture. I wanted to know what God says about rest–both His promises and His mandates. Here's what I found. I hope you will feel encouraged to build on them.
Rest from burdens
"Come to me, all you who are weary and heavy-laden, and I will give you rest" (Matthew 11:28 NIV)
Imagine – the Lord himself invites us to put down our load when we are tired and overwhelmed. What better time to respond to this invitation than during the Thanksgiving and Christmas season? Merchants don't want you to rest. They want you to buy their goods and services. Bankers don't want you to rest. They want to loan you money so they can charge you interest. Friends don't offer to give you rest. They want you to come to their party or dinner or serve on a committee at church or at work. And your children and spouse? Well, they may sympathize that this season is demanding, but do they want you to rest? Not really. If you do, who'll prepare the meals and shop for gifts, organize the family get-together, and pay for it all when the bills arrive?
Only the Lord wants you to rest. Only He wants you to come away with Him when you are weary and heavy-laden. When you hear His call, put down whatever you're doing. It'll be there when you return. Follow His lead. "Take five" with God today. Find a quiet space. Retreat from your burdens. Relax and refresh yourself.
Rest from work
"Six days you shall labor, but on the seventh day you shall rest; even during the ploughing season and harvest you must rest" (Exodus 34:21 NIV).
Even as the Israelites were commanded to rest during harvest, we too must rest during the busyness of holiday celebrations. Set aside some vacation days for this season of the year. Too many of us try to work normal hours and shop and cook and decorate and entertain. Then we wonder why we come down with a cold or the flu or a bout of depression. We need to rest. We deserve to rest. We require rest.
God knows this and that's why He commands us to rest on the seventh day – even in the midst of the busiest seasons of the year – whether at work or at home or in our communities. Our work will live on long after we're gone. Other people will take up the plough and bring in the harvest – and decorate the tree, prepare the turkey, buy and wrap the gifts. It is up to each of us to look within, and to find ways to refill our well. For some of us that means turning off the computer, turning on the message machine, saying no to an invitation, saying yes to the desire to take a nap, simplifying the way we do our jobs -taking on less and giving away more.
There is a time to work and a time to rest. When the Lord calls us to rest even during the busy times, let us not be so consumed with our routine that we miss this opportunity.
Rest from people
"Then because so many people were coming and going that they did not even have a chance to eat, he said to them, 'Come with me by yourselves to a quiet place and get some rest'" (Mark 6:31 NIV).
My husband walked through the front door, tossed his jacket and keys on the chair in the hallway and let out a big sigh. "I've had enough of people," he said, obviously spent after a long day behind the customer service counter at the store where he works. "What's happening to our world?" he asked as we walked into the dining room for dinner. "This is supposed to be a happy time of year. Thanksgiving, Christmas, New Year's. But people are impatient, angry, in a hurry. I'll be glad when it's all over."
Some relaxing music, a few moments of prayer together, and a good night's sleep helped my husband come back to normal. Like Jesus, he felt the press of the crowd and he needed to retreat for a few hours.
We all know that feeling. There are times when we absolutely must be alone – away from the noise, the bustle, the anxiety that seems to run through the masses. Jesus experienced it often. And at such times he went off alone or with a small band of friends, to pray, to listen to His heavenly Father, to rest.
How much our lives would change for the better if we, like Jesus, did what our heavenly Father tells us to do. Rest from people.
Rest in the Lord
"He who dwells in the shelter of the Most High will rest in the shadow of the Almighty" (Ps. 91:1).
What an awesome truth to contemplate. Those who trust in the Lord will experience His protection. The God of the universe is telling us, His children, that He will protect us, that there is rest for us in the shadow of the Almighty. If we seek Him first, build our lives in and through Him, and put Him above everything else – even above family, our job, church, our civic duty, celebrations, we will never have to worry or fear.
How could we turn down such an invitation? God is our dwelling place and our plane of refuge and rest. Retreat to Him often during this stressful season and allow him to refresh your spirit, renew your mind, and refuel your body. Then you can participate in the holidays fully alert and able to share the good news of Jesus Christ. "Take five" with God today.

Journey through the holiday season by studying Advent
At the end of your rope? Join us in chat today.