Trusting God With Your Success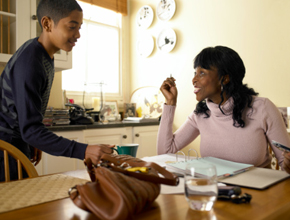 Being a work-at-home mom certainly has its challenges, especially when it comes to time management. You want a healthy balance between spending time with family and working towards your professional goals. Unfortunately, in today's society we are bombarded with messages that tell us in order to be successful you must work your fingers to the bones, work a vast amount of overtime, and sleep? Who needs it? (Me!)
Often people do a lot of work without actually getting much accomplished. This is because they try to follow the world's methods of obtaining success. Do not get me wrong. I believe in the value of hard work, but my recent studies in God's word have also made me a true believer in the value of resting in God.
God's plan for success
For the past few months I have been studying the book of Joshua.
God's people would need to take over the people already in the land before they could claim it for themselves and settle there. Joshua's job was threefold. One, he would enter the promise land. Two, he would conquer the land. Three, he would divide the land among God's people.
He had a great task before him, especially following in the footsteps of Moses who lead the people out of slavery and during their time in the wilderness. To prepare Joshua for this calling God tells him to do two main things: be strong and courageous (Joshua 1:6-7,9) and be careful to follow God's law (Joshua 1:7-8). Then God tells Joshua he will have success.
This is an excellent model for us to follow today. Being obedient to these two calls from God requires a focus that you will not cultivate in an environment where you are running yourself thin. Working your fingers to the bone will not give time to spend with God, to listen to Him, to glean from His strength. It will certainly not give you the opportunity to trust God in moments of rest.
In fact, overworking often results from a lack of trust in God. When we know that God is working behind the scenes, that He is faithful to see His promises to completion, and that He has our best interest in mind we can confidently do our best, and let God do the rest. God told Joshua, "only be strong and courageous". (Joshua 1:7)
God did not tell him to study military strategy all day and night. Instead God said meditate on my word day and night. (Joshua 1:8) God did not tell Joshua how big the giants were. Instead He said only be strong. (Joshua 1:7)
God does not want our efforts towards success to be done out of fear, entitlement, obligation, or for our own glory. Our efforts towards success should be for His glory. He receives the most glory when we stop operating out of fear, stop controlling, stop manipulating and give Him space to work through us.
We can do our part and then we can rest assured He will do His. The world may make you feel the only road to success is paved with intense levels of work leaving no room for rest. God, on the other hand, requires a healthy balance between the two.
As a work-at-home mom this message took a huge load off my shoulders. Before, I felt pressure to work harder than necessary to be successful. Now, I am free knowing I am doing my part, and God is doing His. Ironically, since then I have been more productive and have accomplished more than I could have ever imagined. Glory to God alone! I hope you too find peace and balance in trusting God with your success.
 Take the next step:
You don't have to be Superwoman
Do you feel like your best is never enough? Come talk to a mentor