Concerned About What Your Kids See on TV?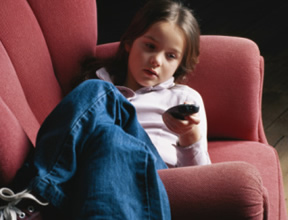 "I'm really concerned about some of the things my kids are seeing on TV. How can we protect our family from the harmful effects of the entertainment industry?"
Dave: Wow, that's a big question these days. Parents have so many more entertainment complexities to face than what parents faced even just 20 years ago. There is a myriad of potential dangers with TV programming, movies, videos and DVD's, music, video games, cell phones, play stations, books, magazines and more – let alone all that goes with being online these days – MSN, chat rooms, cyber-dating, websites of pornography, violence and degrading humor, and the ever-present fear of predators. With all the trash that can be accessed in so many forms, where is a parent to start?
Donalyn: First off, you have to start facing these harmful media concerns when the kids are much younger than most parents think. We all know of parents, and to some extent we did it too, who use the media as a babysitter to amuse their kids, whether it's popping in a video or just letting them watch TV to keep them occupied. Nice break, right? A much deserved rest, no doubt, but at what cost? This is where the start of unsupervised viewing takes place. Here we need to be cautious. We need to always keep working towards helping the child develop a host of interests beyond the passive, electronic option. Activity and creativity in a variety of things is so much better for the child than mere stimulation and entertainment. While the break is nice, it is better to try to stay involved by talking about the different TV shows as you watch with your kids. It takes more work for the parent but over the long haul, you'll like the results in the character of your child.
Dave: That's right, providing both reasonable supervision and a lot of healthy options for the child early on is critical, and these same general principles still apply when they get older. Watch and discuss TV programs and movies together – this needs to be happening already by years 9-13. Discuss what is being communicated, why it is not healthy or God-honoring, and what their thoughts are about what is being portrayed. Set up some media-viewing criteria as a family. Talk about why certain things aren't appropriate in your home. Don't hesitate to fast-forward through questionable spots. Waiting to set healthy and wise guidelines until they are teens is far too late. Know what movies your kids are attending and renting. You have a right to be asking these questions. As teenagers, they are less likely to watch movies with you, especially if you are always moralizing or stopping the movie. But if it's done right, and done early, you will actually find your teens fast-forwarding through parts of movies themselves.
And oh yes, on the family standards for rental videos? For us we set as the non-negotiables: no skin and no horror movies. I really know as a counselor that lust and fear can be so easily stimulated by questionable scenes.
Donalyn: The same principles apply to their music world. We'd recommend that you provide your children with good, upbeat, Christian music to listen to early that is age appropriate and fun for them – even though it might be outside your personal taste zone. (Make available good DVD's as they get older, too.) Further, let them choose the music as you are driving in the car and use the time to ask them about what the lyrics are saying: are they good, positive and God-honoring, or degrading, negative and displeasing to God? Listen to their music with them as they get older and continue to ask them questions. What do they like about it? Why do they like this group? What does this song mean? What is the singer saying? In doing so, you are both finding out where they are at as well as reaffirming the values of the family.
Dave: Parents should be cautioned about over-scrutinizing music selection. Don't maintain that all secular music is wrong. Give them freedom to choose, to have their version of love songs, and their taste in music. Yes, do talk through lyrics, philosophy and lifestyle issues of the favorite bands, but be careful not to make music into too big an issue. Assess where they are at and how out of line they are before you determine if it's a hill you want to raise a cross on. Wise parents pick their critical battles carefully. Be careful not to embitter your teens unnecessarily.
In this limited format, we'll have to answer the bigger computer related questions in another issue of FamilyTies. The whole "online" complexity merits this attention. To summarize: keep it simple. Guiding your children safely beyond the harmful effects of the media world involves location, limits and life lessons. The right location of the media source yields good supervision. Realistic limits create safe parameters. Righteous life lessons will guide them when they are gone from home and away from your direct influence.
Donalyn: And one more thing. Let your home be the party home. Be sure that your teens know that your door is always open for a group of their friends to come and hang out. Sure, there needs to be reasonable warning and it does need to fit schedules, but never underestimate the amazing influence these times can have. Yes, there are costs – food, peace and quiet, late nights, privacy, driving other kids home and often multiple sleepovers. But the benefits significantly outweigh these costs to the discerning parent. We'll never regret being the landing pad for many evenings for our teens.