A Wonderful Work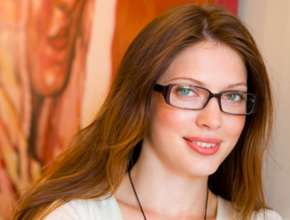 Do you want the strength to face life's challenges? Take our free online study and learn how to stand up to your fears with strength and courage.
All my life, I've been told that I was beautiful – by my parents, my family, and my extended church family. Never once in my life had anyone that I loved and respected planted a seed of doubt about my beauty, my smarts, or my humor. Having the benefit of validation carried me through bullying and teasing in elementary school, and gave me unbelievable confidence in both my faith in God and in myself. I was confident in my plans to become a nurse, so sure about my future. Then everything spiraled out of my control.
I noticed that my moods and emotions were getting out of control, hard for me to handle. They became so intense that I couldn't even concentrate on anything. I would get depressed for a few weeks, then wake up feeling like I drank ten cups of coffee and ready to face the world, non-stop. This would last for weeks before I became depressed again, even suicidal.
In October of 2007, I was diagnosed with bipolar disorder and I haven't looked at myself the same way since then.
In the wake of my diagnosis, I began to struggle with things that I thought I'd never have to struggle with. I was so hurt, afraid, and intensely sad. Suddenly, that beautiful, smart, funny, confident girl was gone. Even though my illness was unseen, it felt as though everyone could see it and that caused the greatest sense of shame and failure I had ever felt in my life. I could have done something to prevent it, I thought. I should've known.
I shrank away from church, I began to self-loathe, self-pity, criticize, and distort all that I'd known to be true about myself. When I looked into the mirror every morning, I cried because I wasn't good enough. I was flawed, I was abnormal, I was crazy … sick.
Not Good Enough for God
Well, if I'm not good enough for myself, then I couldn't possibly be good enough for God, I thought. Every time I thought about reading the Scriptures, praying, or going to church, I would always feel discouraged, ashamed, empty; I felt like I had nothing to offer God but anger, whys, resentments, and sorrows. A regular Cain, I was. Certainly, God wouldn't want to hear that. I know I wouldn't.
But a near-death situation forced me to reevaluate my life. I'd been handling my diagnosis and my relationship with God on my own terms, and I thought rather bitterly, "Pfft … how's that workin' for ya?"
I picked up my Bible and began to read, and that was when I allowed God to restore me.
The Lord showed me the most incredible love and mercy through that hard time.
I call on you, O God, for you will answer me; give ear to me and hear my prayer
." I
n that moment I released those fears, insecurities, doubts, and guilt that I had about myself and about my life with BPD
. It took much consistency in prayer, reading the Word, and attending church to get me to where I am now. To get here, I had to be real, up front with God, really seeking his face to turn the view I had of myself around. He put this scripture on my heart:
Psalm 139: 14: "I praise you for I am fearfully and wonderfully made; your works are wonderful, I know that full well."
It honestly made me smile, and filled me with peace. God did love me, he spent time making me, shaping me, and in His eyes, I would always be exactly who He made me to be: His daughter, His beloved child.
His infinite, transcendent love makes me more than a diagnosis, more than a disorder.
I could barely grasp the eternal weight of that knowledge. I am a wonderful work!
You Are a Wonderful Work!
God spent time on us. He oversaw every detail so that He could breathe life into the people we are today. Genesis 1:31: "God saw all that he had made, and it was very good." God delights in his creation; God delights in us because we were made in his image. In Him, there is no shame, no guilt, no ugliness, no lack, or doubt. God loves us, His creations, His sons and daughters.
Has a diagnosis or a tough situation affected your self-esteem? Has your perception of yourself affected your perception of God? Has your relationship with God suffered because of that?

Have you been diagnosed with something and you are asking God "Why?" Are you not handling it well? Do you need to talk to someone? Talk to one of our mentors, it's free and confidential!