Start Living The Great Life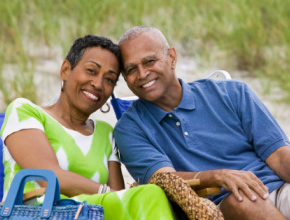 Retirement may be one of the greatest transitions in our lives and offer us some of our greatest challenges, yet most of us have only considered how much money we have saved and what trip we'd like to take. But the truth is, there is much more to successful retirement years than finances and travel.
As a Certified Retirement Coach, my practice addresses achieving a retirement with purpose, passion, balance and fulfillment. Residing in Southwest Florida, known to many as the retirement capital of the world, I have seen first hand how thousands relocate here, buy a waterfront home, new car and boat for their dock.  One would think, with all these creature comforts, they would be the happiest retirees on the face of the planet.  Some are, but many aren't.  Niceties such as housing, recreational activities, pensions and medical facilities are largely insignificant compared to our resolve to live a great life.
Living "the great life" begins with getting connected.
Spiritual connectedness
The first area we need to address is our spiritual connectedness. How is your relationship with the Lord? And I am not asking if you attend church regularly.  I am talking about your faith, prayer life and commitment to using your gifts.  If you are not sure that you are maximizing your gifts, ask the Lord to reveal the gifts that He would have you use, and ask Him to lead you.
Many years ago, my pastor, Gordon Brown, led our church in the following prayer: "Lord, please use me, according to Your will, in whatever humble way You desire.  Help me to make a difference in this world.  Help me to fulfill my purpose."  When you pray for the Lord's will in your life, things happen!  Our God does not do things in a small way.  He will use us in phenomenal ways – always!
Facing the challenge
Things change as soon as we give control of our lives to the Lord. Somehow, giving it up is a very scary thing for many people, because change can be scary. This is one of the biggest challenges many Christians face. It was scary for me too, but I realized that doing it my way was not working so well, because I wasn't happy.  The quote "If you keep doing what you are doing, you will keep getting what you are getting," really is true.  It was time to try something different.
The beauty of this approach is, that the Lord will use you in ways that are close to your heart.  He has given each of us dreams and desires.  When we give control to Him, He will enable us to fulfill our dreams in amazing ways.  I can guarantee this result because my life has bourn witness to this.  Once I asked the Lord (from my heart) to use me, He did!  I was able to meet challenges unafraid.  I was placed in positions to help others and best of all, I became extremely blessed, peaceful and fulfilled.  Every morning I wake, I am energized to start my day, because each day is filled with exciting opportunities.
So the choice is yours.  How do you want to live your life?  Do you desire fulfillment, passion, purpose and balance?  If living "the great life" is your goal, ask the Lord to use you and start your own amazing journey.