Going Against the Herd Instinct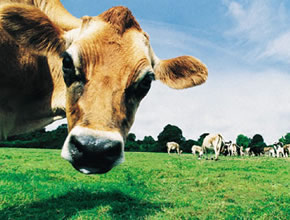 Not too many people can say that they miss regularly getting up at 3:30 in the morning. But Mike Feenstra admits that rising before the sun to spend time in his dairy parlour milking cows is one of the things he misses most since he and his family sold their farm nine years ago.
Going farmless
The Feenstras have always made farming a family affair. Mike (aged 52) and Anne  homeschooled their four children – who range in age from 20 to 13 - which has afforded them the chance to make homelife and learning a seamless venture, where the borders between the world and classroom are not easily distinguishable. But after establishing successful dairy and turkey operations, the family decided to concentrate more on nourshing people's souls, instead of their bodies, for a change.
Not out to pasture
Mike says they took about two years to finally go through with such a monumental lifestyle change. Yet things were taking shape around the time Mike hit the mid-life mark. It all started when a close friend began to challenge him to examine if he was "making [his] life count."
"I was about 40 before someone challenged me, asked me, 'How do you share your faith?'" he says, adding that he never really considered it part of his character, his makeup, to make his beliefs a focus of conversation. But he started to look at things differently after that.
A new yield
He tried to quantify faith-sharing in the same way he would quantify the bounty he yielded from his dairy herd. "I looked at 20-50 litres of milk and tried to translate that into how many people I could reach with the gospel." While as farmer, he was still meeting helping people fill a very practical need, Mike felt the pull to make up for lost time and start sharing his faith full time.
The final decision involved leaving the lifestyle and routine he loved and working full time with Campus Crusade. Mike now meets with farmers and other business people and, as he puts it, simply "shares opportunities with people," helping them use their talents and social circles to tell others about the faith that their lives are based on.
"When you're challenged to make your life count, you have to take a look at what's going to make a difference for eternity," he says. "Christians often say that everything belongs to God. But when it comes time to actually sell the farm and make that actually happen…well that's a big part of the challenge."
Next in line
Some have questioned the Feenstra's decision. What if one of their kids wants to farm?
"When I came to this country (from Holland in 1973) I started with nothing," says Mike. If God wants them to farm, I'm sure he'll make a way for them to do it."
The kids now have a different 'occupational' heritage to continue. However, this job is one that can be found within any career path they decide to embark on.
"The kids now look closely at how I'm making a difference in what I do," says Mike.
He points out that one son works as an electrician. As he's busy wiring homes, he's also incorporating ways to share his faith. Another son is leading a Bible study in a public high school.