Clinging to God in Difficult Times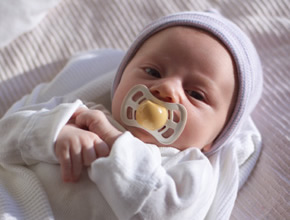 On New Year's Eve 2002, I was still unsure how we would be spending the evening. I never expected that I would be in the waiting room of an ICU. To my shock and horror, my two-month old granddaughter, Shayla, was in a near coma and her prognosis was grim.
Feeling powerless
The reality of this situation was difficult to take in. I felt shock, helplessness, and was operating on sheer instinct. The only thing I could do was pray. I was powerless and I knew that I needed God as I have never needed Him before. I just kept crying out to God through my tears, "Please help us, Lord!" As we waited at the emergency room to see what would happen next, I began to call all my close friends, asking them to please pray for God to watch over Shayla and to give our family strength. My calls were made through tears and a quivering voice of desperation. I knew that prayers were all that would help and I needed to know that others were joining me in lifting these petitions up to God in heaven.
As the situation grew worse after the baby was transferred to Children's Hospital, the numbness and sheer need intensified. I felt so very small and powerless. I had an overwhelming need to rely on God's power, strength, healing and comfort. After finally getting to go in and see her hours later, hooked up to a feeding tube, breathing tube, direct line IVs (about 8 tubes in all), my family went back to the waiting room and my daughter and I spent the night there. Sleep was almost impossible to find – we only managed a few hours due to sheer exhaustion.
The only place I found strength
I found a Bible in the waiting room and opened to Psalm 91. A few months earlier I had written out this psalm as a prayer from myself to God. That is one of my favorite ways to pray, knowing that God's Word is alive and true and does not return void. Little did I know how significant that would be to me in the next few days.  I prayed that psalm over and over, crying out to God to hear me and fulfill His promises of protection for little baby Shayla. I felt like Jacob when he wrestled with God – I could not quit praying. I fell asleep with the Bible on my lap, my hand on the page open to Psalm 91, holding onto the Word of God and refusing to let go. It was the only thing I could do, my only hope and source of strength.
The days went on. Despite several significant crises and losses in my life prior to this, I have never felt so small, so weak, so low and so weary. The worst was the fourth evening when we had a long meeting with the attending physician. He explained what the situation was and that it was an hour-by-hour wait to see if Shayla improved. We asked our questions, with few definite answers. My grandbaby had a subdural hematoma on her brain and it was a waiting game to see if the swelling worsened, if surgery would be required, if she would wake up, if she would be able to move her right side, and the unspoken – if she would live.
After this meeting, I knew that I could not speak without crying and I did not want to upset my daughter so I went down to the hospital chapel, which thankfully was unoccupied. There I cried from the pit of my being out to God to heal my grandbaby out of His mercy and love. He had created her and had a plan and a purpose for her. I clung to His attributes and His promises. He is the Great Physician and I begged Him to heal my dear grandbaby. I called on Him to act out of His love and goodness and power. Our love for her was overwhelmingly piercing and I knew that God loved her even more that we do. I cried, begged and prayed until I was too exhausted to do so anymore. Then I just trusted God to reveal Himself as the mighty, loving God that He is.
He is always faithful
As the beginning of a miraculous recovery, the next night Shayla's breathing tube was removed and her seizures stopped occurring. I was at church the next morning and tears streamed down my face as I sang along to the Australian Hillsong's Made Me Glad. I clung to the words of that song over and over through the weeks ahead: "You are my Shield, my Strength, my Fortress, Deliverer… my ever present help in time of need". After seventeen days, Shayla was released from the hospital and is now doing most of what she should be for her age.
I learned many lessons during these months and have a new level of faith, love and dependence on God. I want to share with you a few key points.
The most important thing you can do in any situation is pray. If you feel God is calling you into a deeper prayer life with Him, do not resist it. I know now that the previous years that I had spent studying prayer, being in intercessory groups and spending my personal prayer time prepared me for being a prayer warrior for my family during this very difficult time.
Focus on who God is. Focus on His attributes and that He is a great, powerful God, even when we are very small and weak. Listen to praise and worship. It will minister to your heart and soul and help you to enter into prayer and to experience the presence of God.  Worship is also spiritual warfare.
Ask others whom you trust to join you in your prayer requests. Praying friends and family are one of God's ways to strengthen you during the difficult times. God showed me that these prayers in agreement were ascending to Him as a sweet, fragrant incense.
Read the Word. The psalms are particularly easy to identify with during dark times. Read God's promises and find hope in victories of others in the Bible through God working in their life.
Know that God is with you through the fire, the deep waters and the darkness. He does not cause these troubles but He will allow them for a purpose that we may never understand. But as you come to know God, you will see that His ways are higher than our ways and He has the perspective of eternity that we do not have. God proved His love for us by having His only Son Jesus suffer on our behalf, that we might be with them in heaven one day.
If you are struggling with feelings of despair and helplessness, take a step of faith to trust in God — His love and faithfulness. Be encouraged by the truth that He is always in control and that He desires our best in all circumstances.