Effective Prayer
Editor's Note: In 1999 John Baerg was diagnosed with cancer. It remained contained for a little over three years and then began to spread. He went to be with Jesus on Sunday, November 24, 2002.  John served with Campus Crusade for Christ, Canada (now Power to Change Ministries) for 30 years.  Shortly before his passing, the prayer room in the Campus Crusade for Christ national headquarters was renamed in John's honor.  His legacy of prayer lives on.
"…but the people who know their God will display strength and take action" (Daniel 11:32).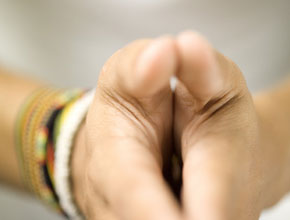 One of the greatest needs in the Christian community is for Christians to discover and experience the privilege and power of effective prayer. Dr. Bill Bright writes, "History records no significant movement of the Spirit of God that has not been preceded by a very strong prayer emphasis.  And understandably so, because the omnipotent God has chosen to communicate with individuals through prayer as well as through His inspired Word."  He goes on to say, "Our Savior Himself, to whom all authority in heaven and earth was given, spent much time praying while here on earth.  Now seated at the right hand of God the Father, He intercedes on our behalf.  Since He is our example, we can rightly conclude that the ministry of prayer is the highest calling a Christian can have.  A vast reservoir of power, wisdom and grace becomes available to us through prayer."
I invite you to join me in praying that God will continue to use the fasting and prayer gatherings as a spark to help set ablaze the Body of Christ and send revival in this critical moment of history for our beloved nation and for the Church.  I urge you to join others who have committed themselves to fasting and prayer and to teaching these disciplines to other Christians, inspiring believers to trust our sovereign God to send revival to our needy nation and world.
A great force of God's power will be released as we commit ourselves to effective prayer. In Acts 4 we read how the Christians prayed together with one heart, mind and spirit. Then all the believers were united as they lifted their voices in prayer (Acts 4:24).  The result was a great boldness in sharing God's message.
It is our earnest prayer that you will be directed and enabled by the Holy Spirit to become personally involved in praying for a worldwide revival and spiritual awakening.  Also, that you will be actively involved in boldly sharing God's good news with people in your sphere of influence.
The effective prayer of a righteous man can accomplish much (James 5:16b NASB).
The earnest prayer of a righteous person has great power and wonderful results (James 5:16b NLT).
The prayer of a righteous man is powerful and effective (James 5:16b NIV).
The prayer of a righteous man has a powerful effect (James 5:16b Good News).

"And the word of the Lord came to him, saying…so he went and did according to the word of the Lord"  (I Kings 17:2,5).
In order for us to be effective in our prayers, we must have these two qualities that were a part of Elijah's lifestyle.  We must be open to God's will and direction for our lives as is revealed through His Word.
As we read and study the scripture, we will learn what the will of God the Father is and as we know His will, we can pray and ask according to His will.  For example, I Peter 3:9 tells me that it is not the will of the Lord that any perish, but His will is for all to come to repentance.  Therefore, when I pray for those around me who do not know Christ, I can be sure that I am praying according to God's will.
The Word of God also tells me that I am the Lord's witness.  " 'You are my witnesses,' declares the Lord"  (Isaiah 43:10).  This means that I do not only pray for the lost, but I also go and tell them what I have seen, heard and experienced of the Lord.  I go and share the Good News of God's love and forgiveness with them.  When the Word of the Lord came to Elijah, he went and did according to the Word of the Lord.
Hearing and knowing God's Word and then going and doing according to His Word will result in many answers to our prayers.
""I love the Lord because He hears my prayers and answers them. Because He bends down and listens, I will pray as long as I breathe!"" Psalm 116:1, 2 (Living Bible).
Spending time developing our own personal relationship with the Lord is a valuable investment of our time. God has made it possible for us to communicate with Him through our prayers. He speaks to us through His Word, the Bible. Therefore, the more we pray and read His Word, the deeper our relationship with Him will be.
A simple guide to help us be more effective in our communication with God can be remembered by the word ACTS.
Adoration – This means I worship God for Who He is rather than for what He does. In adoration we verbalize our worship, praise, honor, and exaltation of God. Many of the Psalms help us focus on the attributes of God, such as His loving kindness, His mercy, His majesty and others. Adoration is expressing our love for Him through our words.
Confession – As we begin our prayer with a worshipful adoration of God, the Holy Spirit will often reveal any sin in our life that needs to be confessed. To confess means to ""agree with"". In other words, I agree with God concerning my sin – that it is sin. I also agree with God that the blood of Jesus Christ has paid for that sin. This leads me to thank Him for His forgiveness.
Thanksgiving – Giving thanks expresses faith, and faith pleases God. In giving thanks we are expressing verbally our gratefulness and appreciation for what God does. Thanksgiving is also saying, ""God I trust You."" It is the opposite of whining and becoming bitter.
Supplication – Supplication with thanksgiving is letting our requests be made known to God. We are praying for everything that concerns us, as well as for the needs of others. Supplication includes intercession and petition. ACTS helps us to be ""on the alert"" in our prayers.
"Be anxious for nothing, but in everything by prayer and supplication with thanksgiving let your requests be made known to God." Philippians 4:6.
I am exhorted to make my requests known to God, but how can I pray with confidence? Four key words answer this question.
1) Abide
Abiding is the key to successful praying. In John 15:7, Jesus states, "If you abide in Me and

My words abide

in you, ask whatever you will and it shall be done for you." Colossians 3:16 says, "Let the Word of Christ richly dwell within you."
2) Ask
Jesus tells us in Matthew 7:7, 8, "

Ask

, and it shall be given to you; seek and you shall find; knock, and it shall be opened to you. For every one who

asks

receives; and he who seeks finds; and to him who knocks it shall be opened."

Someone has said, when we get to heaven we'll find a lot of unopened packages with our name on them because we did not claim them through prayer.
3) Believe
In Matthew 21:22 we read, "Everything you ask in prayer,

believing

you shall receive." Faith, which is an attitude of believing, pleases God.
4) Receive
If you are abiding in Christ, and if you have asked, believing, get ready to receive the answer. In other words, when you pray for rain, carry an umbrella. John 16:24 says, "Ask and you will receive, that your joy may be made full."
Remember four words to pray with confidence: abide, ask, believe and receive.
Read More
John's widow shares her journey of loss
Challenge: Become an email prayer mentor!