What Matters Most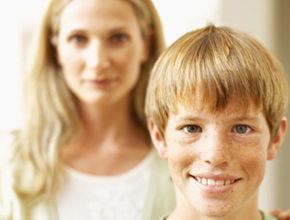 "Mom, did you know there are things worse than dying?  I don't think my friends know that."
I could not believe my ears.  Those were totally unexpected words coming from my son, Daniel, who was a fresh kindergarten graduate at the time.  Concern for him was never far from my mind since the sudden and tragic death of his daddy six weeks earlier.  I was always looking for clues as to how he was processing this loss.
For me, those six weeks had been an unkind introduction to single parenthood. There were so many issues to tackle, and I felt like an unprepared marathon runner, the finish line being my bed which I dropped into late each night.
Father to the fatherless
My two daughters, a high school and a college student, had a different finish line they were limping towards.  Our loss occurred in mid-spring, and they were both determined to finish the school year well.
By the time school was out, we were all exhausted, but it was not time to rest quite yet.  One daughter was heading out right away on a summer mission trip and the rest of us were flying to California where we would all rendezvous with our extended family.
But the stress of the trip preparations along with everything else had taken its toll on Daniel.  He was acting out his need for my attention and patience, and I simply could not deliver.  In desperation I called a friend.  "Could you please take Daniel for the rest of the afternoon?"
When I picked him up that evening, a very different child got into the car.  He was emotionally filled and peaceful.  From the back seat, he suddenly asked his startling question about things worse than dying.
I quickly realized I had just been handed something very special.  Daniel had opened the door to his soul for a moment, and I needed to walk through. We talked about how living a long life without Jesus in one's heart is actually a worse situation than what we were facing.  Their life would not continue in heaven, but our dad was already there.  Our dad knew Jesus.  I could tell Daniel was really understanding this truth and finding hope.
While I had been frantic with all my preparations, God had been quietly doing what He had promised.  He was being a father to the fatherless.  And just what does a father do, but to calm his child and teach him about what matters most?  That's what all of life's important questions are about.
Assurance of heaven

A few months later Daniel was back in school, and I was looking over his class roster which included the names of the parents.  All of the parents had an "and" between the names.  A mom and a dad.  Underneath Daniel's name was only my own.  I began to feel sorry for our family's situation.  Why should my precious son have no "and"?
Then I remembered the lesson Daniel had taught me. There are things worse than dying.  We know where our dad is.  He is safe forever, and we will be together someday.  But not all the parents on that roster have that assurance.  A personal relationship with Jesus must be begun on earth before it can be continued in heaven.  How sad to live a successful life, raising happy and responsible children, but not have the eternal issues of one's destiny settled.
My hope is that my story will encourage others to settle that question of eternal destiny, for it is possible to have assurance of heaven.  What separates us from God now is the same thing that will separate us from Him in eternity — our sins.  But Jesus took care of that in His death on the cross.  He invites us to accept His payment for our sins.  Our part is to believe that and invite Him into our lives.  We can do that by praying a prayer something like this:
Lord Jesus, I need You.  Thank You for dying on the cross for my sins.  I open the door of my life and receive You as my Savior and Lord.  Thank You for forgiving sins and giving me eternal life.  Take control of the throne of my life.  Make me the kind of person You want me to be.
What God offers here is a relationship with Himself.  That is what every good father longs to have with his child. If you invited Christ into your life, thank God often that He is in your life, that He will never leave you and that you have eternal life. As you learn more about your relationship with God, and how much He loves you, you'll experience life to the fullest.
Our family still lives with the pain of separation from our husband and father.  But in the midst of it all, we have His presence.  And here is the great mystery. We experience His presence and our pain at the same time.  I wish the former eliminated the latter, but it doesn't, at least not now.  But in heaven, now that's a different story.