Nurturing New Believers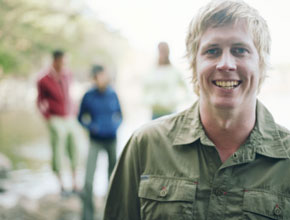 My new computer arrived. I was so excited, I eagerly opened the box. Then I suddenly felt overwhelmed and confused.  I glanced at the manual and realized it only complicated my confusion. At that point I knew the answer was to call an expert.
Many new believers have experienced the joy of receiving Christ but are left feeling overwhelmed and confused. Discipleship is the key, but how does one know where to begin?
Many don't know who to call, so if you know of someone who has recently received Christ, here are some ways you can help them.
Share the basics with a new believer
Philippians 1:6 tells us that God is committed to keep on working in our lives until He has completed what He set out to do.  You can have a significant role in His 'work' in the lives of new believers, informally, one to one or in a group. Successful nurturing is taking the initiative to share the basics of the Christian life in the power of the Holy Spirit and leaving the results to God.
Teach them about three key relationships
Each Christian can nurture new believers by teaching the importance of three relationships.  Communication is vital to any relationship, as is quality time.
New believers need a vital relationship with God.  It will enable them to stand firm and take action (Daniel 11:32).  Knowing Jesus Christ can become the most exciting relationship a new believer has.

They need the security of assurance of salvation (I John 5:11-13) and that they have been completely forgiven and accepted by God.
They need to know God by studying the Bible (the vehicle through which God communicates with us).  Our goal is to teach them to become self feeders, discovering God's plans and provisions in the Bible (2 Timothy 3:16, 17).  This will make them dependent on God, not us.
They need to communicate with God through prayer – sharing their thoughts, needs and desires to do His will (Philippians 4:6,7).
They need to know how to maintain their fellowship with God by dealing with sin (I John 1:9) and appropriating the filling of the Holy Spirit (Ephesians 5:18; I John 5:14,15).

New believers need relationships with other Christians(Hebrews 10:25). Teach them these truths as you develop a warm, encouraging relationship with them.  You will model for them how they can give and receive with other Christians.

Provide opportunities for study, worship, prayer and sharing.
Underline the importance of attending a local Christ-honoring, Bible-teaching church.
Introduce them to other Christians and encourage them to form friendships.

New believers need relationships with pre-Christians:  family, friends, neighbors and co-workers.

They should be encouraged to maintain most current friendships, but on neutral ground and in uncompromising situations.
Have them write out their personal testimony.  Underline potential 'points of identification' which they could use as transitions when sharing their faith with these pre-Christians.
Train them how to use a simple tool to communicate the Gospel.
Nurturing new believers is a rewarding first step to launching them on their lifelong process of becoming spiritually mature.
What does God want you to do with this information?  Do you know how you would like to use this in your area of interest and influence?  Pray that God will enable you to fulfill your plan of action.
We recommend any of the following tools that will help you nurture new believers:
Find more from our online store