Broken on the Back Row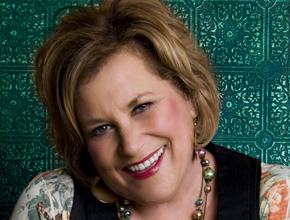 In the backseat the younger three kids—toddler Erin in her safety seat and the kindergartner twins, Jonathan and Jennifer sitting beside her—were quiet for once. They didn't understand why yet another change had to happen in their lives but they trusted me to keep them safe and make things okay. Beside me in the front seat my oldest child, Anna, a second-grader, kept up a cheerful running commentary speculating on which friends she might see that morning.
I gripped the steering wheel with one hand and chewed a fingernail on the other a little nervous about what I was doing but knowing it was necessary. In that season of my life I felt very far away from God. It was not a comfortable place to be but it was nobody's fault but my own. Wrong and sinful choices do that, they move you further away from God.
To look at me that day you probably wouldn't have known there was a problem. If you had known me then you probably would have thought I was a woman with a successful music career, honored with more awards than any other contemporary Christian vocalist, the ten-time recipient of the Dove Award for Female Vocalist of the Year. You probably would have thought I had everything going for me. You probably wouldn't have known that my life was crashing in on all sides.
Separated from my husband, with divorce proceedings pending, I was learning how to be a single mom of four young children. I was worried that the divorce would damage my career—and even more worried that the press would uncover the terrible secret I was hiding. I was terrified that my kids would be hurt by all the poor choices I had made.
Our family had been going to the same church for years. It was a good church. But I needed to find a new place for myself where I could grow and learn. I had heard some good things about a new pastor and that Sunday morning I had decided to take the kids and go.
I talked to them about it beforehand, about how they would go to Sunday school and I would go to "big church." They had a few friends at the new church so that would make things easier. As I drove there that morning I thought that even if I didn't enjoy the service, at least I would have a quiet hour to myself. Those of you with young children know what I'm talking about.
Walking across the parking lot, moving with the crowds through the door and into the lobby, I hoped no one would recognize me. I felt like I had a big scarlet letter across my chest—an A for adulterer and maybe an L too, for liar. I avoided any eye contact feeling sure that everybody there knew about the sin in my life.
I put the kids in Sunday school and happened to pass by the door leading to the balcony. Without really thinking about it I started up the stairs. There weren't any empty seats down in front so I kept climbing. Finally I found a seat in the back row of the balcony right under the huge stained-glass window, and that's where I sat.
As soon as I settled onto the pew I became very emotional. The choir started singing and I cried. A baby was dedicated and I cried. A teenager was baptized and I cried. They took up the offering and I cried. It was just a very emotional morning for me. I knew I had an hour or so to let the tears flow then I would have to pull myself together in time to pick up the kids and go home.
As the service ended the pastor came down from the pulpit and took a few steps down one of the aisles of the large, airy sanctuary.
"If you're visiting with us today, we're so glad you're here," he said, his pleasant voice ringing out warmly. All of a sudden a spike of dread caused me to tense. I dug into my purse for another tissue. Oh, please don't make the visitors stand up. Don't have someone hand me a rose. I can't do that. Not today, I thought.
But the pastor continued, "We're so happy to have you here," he said again. Then he added, "There are people all around you who would like to know your name, if you would like to tell them. We want you to know that the God we serve lives within these walls—and outside these walls, too."
He took a few more steps down the aisle and looked all around the crowded sanctuary. "But maybe you've been visiting with us here this morning, and you're not ready to tell anyone your name. Maybe all you want to do is sit on the back row of the balcony and cry. That's okay," he said. "We want you to know that the God we serve knows how to find you there. He hasn't forgotten about you. We serve the God of second chances, the God of new beginnings. We serve the God who sets His children free."
Later that insightful pastor would tell me he hadn't noticed me sitting in the balcony crying my eyes out during the service. He didn't know I was there. But God knew. And He had placed those words on the pastor's heart that morning so that when I heard them I would know He had already found me there, broken on the back row of the balcony.
That day began a journey for me. A journey back toward Him.
Moral failure among God's people is nothing new, biblical history is littered with it. Samson failed. Saul failed. David failed, Solomon failed. Jonah failed. The Hebrews failed. All twelve of the disciples of Jesus failed, Peter failed spectacularly. All committed willful, disobedient sin, abiding and abetting the enemy after having once pledged fidelity to God. In both Testaments, the evidence of failure is both overwhelming and sobering.
But equally overwhelming is the evidence that God is in the restoration business. The gospel is the astonishing record of the Lord's effort to reclaim, to redeem, and to restore those who were originally his but who in time were lost.
If you're feeling broken right now and you end up crying on the back row at church some Sunday, I hope you will feel God's reassuring presence of love. He has promised to forgive you for whatever sin you have committed. All you have to do is confess that sin to him, repent of it, ask his forgiveness, and it will be given.
A second chance (September 2004)
It's nearly midnight, and the house is finally quiet. My husband is in Miami with his father who is scheduled to undergo an angioplasty. The kids are all asleep, and the dogs are curled up on their big floor cushion. It's my favorite time of the day, when I finally have a few moments to myself. Usually this is a time of peace and contentment. But tonight my face is streaked with tears.
The manuscript for this book came back today from my editor and as I read the whole thing through once more all the shame and hurt came sweeping over me again. It was as though a cold north wind chilled my being as the sin in my life smacked me in the face yet again. Reading the difficult story of my wrong and sinful choices I wondered, how could anyone do this to her family? And then to think I'm the one who did it! The realization is devastating each time my mind probes that terrible memory. Despite the late hour I called my parents and apologized once more for the embarrassment and pain I had caused them. In the morning I'll tell my kids again how sorry I am for what I've put them through.
And then, watching them happily head off to school, I'll smile and thank God again for His precious gift of grace.
If you've also tasted that wonderful gift, if you've made that long difficult journey back from the top row of the balcony, you know what I'm talking about. You've probably shed some of those midnight tears just as I have. But the gift of grace assures you that God's joy will be waiting for you in the morning.
Everyone has a story. Maybe yours isn't as destructive or as traumatic as mine. I hope not. But if it is, I hope my story has encouraged you to reach out to God no matter how far you've fallen. Never forget that He can find you no matter how deeply you're mired in the muck.
And if you know someone who's stuck there on the back row of life's balcony, broken by sin and filled with despair, I hope my story will help you minister to that person. It's so important, when you've made a huge mistake and fallen into sin, to know that you're not alone and that there's someone who's willing to walk beside you as you make that journey back to wholeness.
A final word
Going back through my story again has stirred up a lot of emotions within me. It also brought to mind an insightful question an interviewer asked me not too long ago. She asked me how I want to be remembered. I considered her question awhile, thinking about all I had been through and how the truth had set me free from all the dark times and brought me to the happy, holy season of life I enjoy today. Of course I couldn't say all that. Epitaphs have to be short. So I answered this way:
Sandi Patty was a woman who sought after God with her whole heart, who loved her family and her friends. And when she got the chance, she sang about it.
What about you? Perhaps you are struggling with brokenness and have no where to turn. Or maybe you need healing and strength to move on from the pain in your past.
If you are a believer in Jesus Christ, God has given you His Holy Spirit to help you live life according to His perfect plan.
Why not pray this simple prayer and by faith invite God to fill you with His Spirit:
Dear Father, I need you. I acknowledge that I have sinned against you by directing my own life. I thank you that You have forgiven my sins through Christ's death on the cross for me. I now invite Christ to again take His place on the throne of my life. Fill me with the Holy Spirit as You commanded me to be filled, and as You promised in Your Word that You would do if I asked in faith. I pray this in the name of Jesus. As an expression of my faith, I thank You for directing my life and for filling me with the Holy Spirit. Amen.