What is the "unforgivable sin?"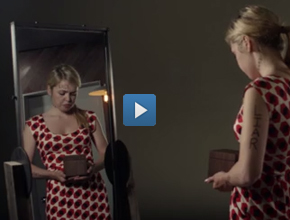 Struggling to forgive someone? Not feeling forgiven yourself? Confide in an email mentor
"Whoever is not with me is against me, and whoever does not gather with me scatters. And so I tell you, people will be forgiven every sin and blasphemy. But blasphemy against the Spirit will not be forgiven. Anyone who speaks a word against the Son of Man will be forgiven, but anyone who speaks against the Holy Spirit will not be forgiven, either in this age or in the age to come." (Matthew 12:30-32, TNIV)
"Truly I tell you, people will be forgiven all their sins and all the blasphemies they utter. But whoever blasphemes against the Holy Spirit will never be forgiven, but is guilty of an eternal sin." (Mark 3:28-29, TNIV)
Recently, a group of atheists actually encouraged people to "deny the Holy Spirit" online by saying the words "I deny the Holy Spirit" and uploading a video! Of course, the passages above say nothing about 'denying' the Holy Spirit. Clearly there is more to it than merely speaking certain words; if that were all it took, everyone who read that Bible verse aloud would have committed it!
But the fear of having committed this "unforgivable sin" can sometimes haunt Christians, usually because they are unclear about what exactly it is. What is the so-called "unforgivable sin"? And how can we know if we've committed it?
It is not merely an academic question; it's something many Christians agonize over. Rev Dr Victor Shepherd, who has also been a pastor for several decades, describes some of his congregants' fears:
I have been a pastor for 27 years. In that time I have had scores of people huddle in my study and confess what they could barely bring themselves to mention: falteringly they have croaked out what they regard as heinous, so heinous as to have been mentioned to no one else. They have poured out vile mixtures of vice, immorality, folly, even criminality. And I have told them with conviction that as wide and deep as their depravity is, God's forgiveness is wider and deeper still. And I have assured them that however inexcusable, horrific, and even despicable the sin they have committed, they have not committed the "sin against the Holy Spirit." And I have told them that Jesus Christ himself authorizes me to press all of this upon them.1
How is it possible that Dr Shepherd knows these people have not committed this "sin against the Holy Spirit"? In order to determine that, we first must understand exactly what Jesus was referring to.
First we should be careful to note that calling this "sin against the Holy Spirit" is misleading, as Dr Shepherd himself points out. What Jesus actually says is that "whoever blasphemes against the Holy Spirit will never be forgiven" (Mark 3:29). Clearly "sin" and "blasphemy" are different since in Matthew 12:31 Jesus refers to "sin and blasphemy" separately. So what Jesus is talking about here is not merely sin but blasphemy. The Greek blasphe?mia means "vilification (especially against God): – blasphemy, evil speaking, railing."2 So here the properly termed blasphemy against the Holy Spirit seems to refer to speaking evilly about God; not merely as a one-time utterance but as an active and ongoing opposition. It is to witness God's goodness and call it (and continue to call it) evil.
What specific evil was spoken about God in Matthew 12 (Mark 3)?
In context, Jesus has been performing miracles, and the Pharisees, who have witnessed these miracles, claim that Jesus did these good works "by the power of Beelzebub [Satan]" (Matthew 12:24). Thus these Pharisees denied the power and authority of the Holy Spirit and attribute it instead to Satan! These Pharisees, "who, though they knew the miracles of Christ were wrought by the Spirit of God, yet maliciously and obstinately imputed them to the devil, with a view to obscure the glory of Christ, and indulge their own wicked passions and resentments against him."3
This reinforces what we already know: That someone who has consciously rejected God cannot be saved, because they have rejected their only path to salvation: "I am the way and the truth and the life. No one comes to the Father except through me." (John 14:6) Since the power of God's Holy Spirit is the means by which we are saved, a person who rejects Him cannot be saved.
Biblical scholar Ron Rhodes explains:
The Holy Spirit brings conviction upon people and leads their hearts to repentance, making people open and receptive to salvation in Jesus Christ. So the one who blasphemes the Holy Spirit effectively separates himself from the only one who can lead him on the path to salvation in Jesus Christ.4
What does this mean for the Christian who is worried that they have committed blasphemy against the Holy Spirit?
Blasphemy against the Holy Spirit is not merely a certain sin or cursing God in a moment of anger or misery. Nor is it merely saying or writing the words "I blaspheme the Holy Spirit." Any sin can be forgiven if a person honestly confesses, repents, and asks God for forgiveness, as Jesus Himself says in this passage: "people will be forgiven every sin and blasphemy" (Matthew 12:31) and as we read in 1 John 1:9: "If we confess our sins, he is faithful and just and will forgive us our sins and purify us from all unrighteousness."
Only someone who has totally closed themselves off from God's love and marvelous offer of grace could be so calloused as to continually and unrepentantly call God and His glorious works "evil".
Thus, if you are worried that you have committed blasphemy against the Holy Spirit, you could not possibly have done it, for someone whose heart is so calloused would not be at all concerned about such a thing! Dr Shepherd comments that a person's "apprehension is proof positive that the Holy Spirit hasn't been blasphemed and the power of God maligned."5
Doubt or weak faith are not the same as blasphemy against the Holy Spirit. Dr Shepherd concludes:
The weakest faith; the most faltering discipleship; the most hesitant, doubt-filled following; honest doubt and genuine perplexity; all of this our Lord sees and notes and helps. None of it will he scorn or dismiss. And none of it must we ever, ever suggest to be anything approaching the blasphemy against the Spirit. Weak faith he strengthens; faltering faith he makes resolute; genuine perplexity he addresses. … He has nothing but compassion and help for all who cry that their struggle for faith is just that: a struggle.6
Friend, if you have accepted God's glorious offer of forgiveness, confessed your sin, and pledged to give your life over to Him in faith, you are reborn. "In Christ Jesus you are all children of God through faith" (Galatians 3:26, TNIV). And for those who are in Christ there is no condemnation. (Romans 8:1) Therefore, "if anyone is in Christ, the new creation has come: The old has gone, the new is here!" (2 Corinthians 5:17, TNIV)
If your soul has been tormented by fear that you have committed blasphemy against the Holy Spirit, know today that if the Spirit of God lives within you, you who are a new creation, you must not fear.
"May the God of hope fill you with all joy and peace as you trust in him, so that you may overflow with hope by the power of the Holy Spirit." (Romans 15:13)
Discover Freedom From Shame Through the Power of God's Spirit.
Notes:
1. Rev Dr Victor Shepherd, "The Sin Against The Holy Spirit," n.p. Cited 28 January 2009. Online: http://www.victorshepherd.on.ca/sermons/the%20sin%20against%20the%20holy%20spirit.htm
2. Strong's Hebrew & Greek Dictionaries entry G988, "blasphemia"
3. John Gill's Exposition of the Entire Bible, commentary on Matthew 12:31
4. Ron Rhodes, Commonly Misunderstood Bible Verses (Eugene: Harvest House Publishers, 2008), 141.
5. Shepherd. "The Sin Against The Holy Spirit." n.p.
6. Ibid.