Yearning for Green Pastures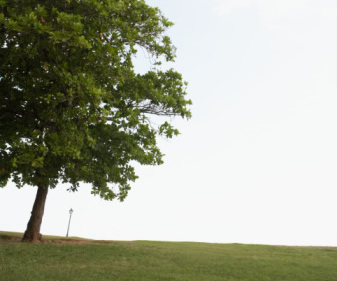 A few years ago my husband applied for a job promotion with the company he had been with for a little over four years. We knew that along with the promotion would also come an immediate transfer to another state. Fortunately, however, the new location would only be one hour from our present home. As we received the news that Allan had been chosen for the position, we were thrilled.
I was especially excited to see what God had in store for me. It had only been a few months earlier that God had birthed in me a dream and vision for ministry. I knew He had called me to teach and work with women. I knew His calling was to teach His Word and to make His name and love well-known. I felt this surely to be a move of God to get us to this new place so that He could open up doors of ministry – and fast!
What I found was that this WAS a sure move of God, but nothing like I expected! In this new place it seemed we initially faced one trial after another. There was sickness and surgery, strained finances and at times a strained marriage. With each test came a needed lesson that comes with the dailyness of getting to know our Savior.
But in the midst of my wondering, doubting, fretting and questioning came an answer so clearly for me that I was amazed. (I'm so thankful that I serve a God who can still AMAZE me!)
Through a study on the 23rd Psalm, God took me to this passage: "The Lord is my shepherd; I shall not want. He makes me to lie down in green pastures."
God spoke tenderly to my heart to cause me to understand and to help me accept what He had to say. On that day and since then God said that this was my time to "lie down". These words in the Hebrew language give the picture of stretching out, even upon a couch. God said this was not yet my time to do all I feel called to do. In fact, it is actually my time to pull back from those things.
As I questioned, the Father challenged me to look further at the verse. Where does the Shepherd take us to lie down? "He makes me to lie down in green pastures"! Those two words picture an abode, a habitation or place with new grass, green herb, vegetation. One definition I found even said simply "abode of shepherd."
God had not simply "couched" me just to sit – or lie – idly by. On the contrary! His call at this particular time was for me to come alongside Him, My Shepherd, so that He could nourish me, feed me, grow me with the rich, fertile, alive, fresh Word of God! Oh, how I praise Him that His purposes and ways are far above our own!
Have you reached a place in your walk with the Shepherd where He's made you lie down-a move to new place, new church, new job, sickness, pregnancy, childbirth, etc.? Recognize that even this time has a purpose in God's plan. Not only will He let you rest but He wants to feed you! And remember, the pastures are green, alive, rich with the nourishment of the fertile word of the living God! Eat and enjoy! "O taste and see that the Lord is good…" (Psalm 34:8).