Be A Parent Coach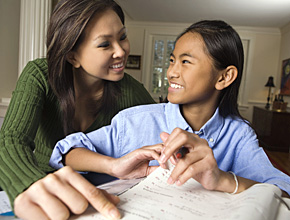 Columbine High School: a tragedy etched in a nation's conscience. For parents in Littleton, Colorado, the unthinkable happened in their high school. For some, the nightmare happened in their family. While the nightly news has moved on to other anomalies, our nation still reels with the reality that teenagers can kill their classmates.
National Public Radio recently reported that parental panic is at an all-time high throughout our country. School security is tighter, hot-lines are accessible (and overused), social events are canceled, and everything from attire to doodles in notebooks are suspicious.
While moms and dads look to school administrators to enforce rules, politicians to draft new laws, and shopkeepers to limit sales of dangerous commodities to minors, they also look within themselves for new parental guidelines.
Once a parent, always a parent, is a true adage. But parenting has ages and stages just like the children who emerge into adulthood. The long-range goal of parenting is mentoring – guiding children to responsible independence.
Dr. Kevin Leman, author of Keeping Your Family Together When The World Is Falling Apart, describes the job of parenting teens as a paradox between "holding them tight" and "letting them go." This internationally known family psychologist tells parents: "You always want your children to feel your love and concern, but you've got to balance that by letting them test their wings, even when you're not quite sure they're ready."
Focusing on being a helper instead of a doer can substantially improve a parent-teenager relationship. Young adults want to "do" for themselves. Their strength comes from parents cheering them on. Parents who believe in their teens will:
Listen. You don't have to agree with your teen's hare-brained ideas, but you show respect when you allow them to express themselves. Many things loom large in a teenager's life – school exams, sports, being accepted by peers, dating, getting a job, and planning for the future. When you take these issues seriously, they will feel your support.
Be reasonable. Negotiate when situations warrant. Take time to get good information before giving your teen an ultimatum. When the answer is a clear "no," have a valid reason other than "because I say so." Remember, sometimes your teens want you to say "no," so they will have an excuse to their friends.
Have clear rules with few surprises. The consequences for unacceptable behavior should be known ahead of time. When your teen is caught breaking a stated rule, you don't need to berate him or her as a person just follow through on the pre-stated consequence.
Be a good role model. Life values are "caught," not taught. Your teens need your "personal best" lived out each day. When you "blow it" with them, your spouse, or your friends, take your share of the blame. Let your teen hear and see you apologize.
Be there! Your teen can never do anything to take away your love for him or her as a person. If your child is involved in a serious misdemeanor, that's time to hate the real enemy — evil. Always pray for your young adults, and tell them you are praying.
As a parent-coach you'll naturally know more about the important things in their life. You're in a position to strategize with them through tough situations, suggesting possible plays and outcomes. Then, when they "go for the goal," you'll be right there, cheering them on.
Reprinted with permission from the Zondervan Publishing House E-MAIL ALERT SERVICE newsletter.