Single Mom Survival Kit 2: Boundaries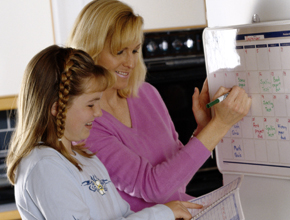 As a single mom, boundaries are essential to keep your family's life stable and constant. Some people think that boundaries are negative because they put limits on our choices.  I have to disagree. We all need boundaries to safeguard us for a healthy lifestyle.  Without boundaries, life can be one exhausting attempt to catch up.
Some families have such tight boundaries that they can hardly breathe. That makes things harder, not easier.  I suggest finding something that works for you and your kids as you journey on this new path.  Boundaries will be your friend and save a lot of grief.
Boundaries respect who you are.  Once in place they protect you by making expectations and responsibilities clear. The confusion comes for people when they have to decide what needs a boundary. These suggestions below are from my own experience and from women who have shared their situations with me.
Every family is different so you'll need to decide what works in your unique situation. My girls had a hard time with change.  They needed to have set times for visitation and activities throughout the week so that they knew what to expect each day. Children of divorce are confused and they too, have had their world spun around. Some children become very angry. It's important to remember that they did not make the decision that altered your family.  You can help them cope as you put up reasonable boundaries.
1.  Maintain a regular schedule of visits.  My girls knew what weekend, and what weekly visit they had with their Dad.  That way they were prepared to visit.  When it was the weekends with me, they were prepared for our activities.
2.  Keep weekly activities to a minimum.  Children are already packing and unpacking for visits, so extra-curricular activities should be kept to what they can handle, not what suits our agenda.  My children were given an option to have one activity per week.  That gave time them to have fun, but it also gave time for homework and downtime during the week.  If your kids are older you will have to set up boundaries if they constantly want to be out with friends.  We all need downtime.
3.  Put boundaries around food and rest.  As a single mom, it is so easy to go through the drive-thru to pick up something quick.  For me, I had to leave very early each morning for work, figure out what to put in the slow cooker, have lunches packed, and get the kids to the sitter's.  I gave myself permission to have those drive-thru nights.
It can help to make a list of meals and lunches for the week and grocery shop with that in mind. It saves on the pocket book too!  Scheduled bedtimes for all family members helped us gain perspective.  If I don't get enough sleep, I am toast and I begin to get clouded in my thinking. There were some nights that after I tucked in my kids, I went to straight to bed too.  Other nights, it was my "Linda time" to do laundry and fold it, write cheques, and watch a favorite show to unwind.
4.  Schedule fun time.  You and your children need to make new memories. Set times to go visit grandma and grandpa, spend a day at the local fair, make regular visits to the library. Pack a backpack with water and snacks and go on an adventure hike.  This is a positive boundary to make time for your little family.  Life is stressful enough. If your kids are older, ask them what they would like to do with you and see what you can figure out together.
5.  Take time for you. Try and not get caught up in the trap of trying to please everyone and learn to say NO.  As you take time for you, it will help heal your heart.  When self-imagine has plummeted to the depth of the pit, work on YOU.  It is good to treat yourself.  I had bubble baths with candles and my favorite music.  I took long walks at my favorite park and wrote about new goals in my journal.  I met with girlfriends for coffee. I loved walking the beach while praying for the days ahead.  Many weekends when the girls were with their dad, I went to the movies by myself.  There is an endless list of way to spend time with you and enjoy it.  Make a list for yourself and begin to check them off.
As you respect boundaries for yourself and your kids, you may have opposition from your Ex and even family members and friends.  If your number one goal is to bring health and stability to your home, then stick with it. Believe me, there were times, I went into my bathroom, closed the door, and cried.   Boundaries also have a component of flexibility.  You will need to decide as each situation comes up if it is wise to flex this time. There were some days when I felt very alone as I worked to establish boundaries. But it paid off as I knew I made positive steps for greater health – both for myself and for my kids.
Note to Self:  Some children will push every boundary.  If they always get their way, your child will learn that they should get everything in life they want.  In setting boundaries, you are teaching them that life is about wise choices and not always about what they want.  That is a great gift to give your children.
"All wisdom comes from the Lord, and so do common sense and understanding.  With wisdom you will learn what is right and honest and fair." (Proverbs 3:6 & 9)
There is HELP, there is HOPE, there is HEALING!
Don't miss the rest of The Single Mom Survival Kit:
Part 1: A box of resources
Part 2: Boundaries
Part 3: The monster called FEAR
Part 4: Testing, testing, 1, 2, 3
Part 5: Making memories
Part 6: Good grief
Part 7: Life as it is
Part 8: The blame game
Part 9: Bucket full of dreams
Part 10: Looking back on it now
Take the next step:
Learn how to say "No"
Use boundaries to protect what matters
Stressed? This lesson can help