5 Ways to Survive Flying with Kids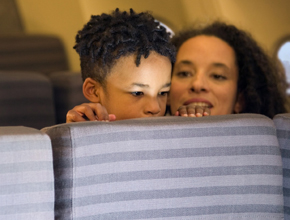 Recently there was a young family sitting behind me on my flight from Detroit to Syracuse.  It was not a pleasant flight. I know flying with a baby, an almost 4 year old, and a 6 year old is tough. It was a 4 1/2 hour flight, and undoubtedly the parents were really tired. Being a parent is one of the hardest jobs in the world. But the thing about a job is that you do actually have to show up and do it.
On this particular flight the 4-year-old screamed because she was bored for the entire four hours and the parents just ignored her. I have traveled with children before, and I know it isn't easy, but there are things you can do to make it easier – for yourself, for your kids and for the rest of us. Meltdowns happen, so anytime you fly with kids you're going to need a plan.  The following five strategies have worked really well for me over the years.
1. Bring special toys
Buy a few new sticker books. Buy a portable video game or a portable DVD player that you only use for special occasions (like a plane ride). Bring along some Polly Pockets or Pet Shops or whatever your daughter likes. You cannot expect a 4-year-old child to sit still and be quiet on a plane for 4 1/2 hours when she has absolutely nothing to do.  (You can't really expect an adult to do that either.)
2. Read to the kids
When my kids were young I never went anywhere without at least 10 books. My kids loved reading books, and I would sit between them on the plane seats and just start from one and move to the next. Yes, this meant that the plane ride wasn't as much fun for me. I didn't get to watch the movie. But the children were happy and giggling and entertained, and a few times I actually had other kids come to the row and listen in.  Occasionally other grandmotherly types offer to read a book because they enjoyed the ones I was reading so much. It doesn't take much to bring a few books along.  It's even easier if you have a e-reader.
3. Sit between the kids
Don't sit in the aisle, two seats away from a 4-year-old child who is near the window. Sit between them so you have control. It does make it harder to talk your husband who is across the aisle, but please have mercy on the rest of us who are in the plane, and make an effort to control the kids.  I promise we'll appreciate it.
4. Be aware of your tone and use it appropriately.
Telling the kids to be quiet in exactly the same voice you use to say everything else doesn't work.  Trust me on this.  As a parent you may think that you made an effort to control the kids and there was nothing else you can do. But if you try to discipline your child in exactly the same voice you use to day, "I'll have a Diet Coke" to the stewardess your child will not realize that she needs to take your threats seriously.
If you want your child to listen to you specifically and to do what you say, you need to use a different tone of voice sometimes. Just because you say, "Jane, be quiet" does not mean that you are disciplining Jane. If you say it and she does not react, then it meant nothing to her.  When you say it, and she doesn't listen, and you don't do anything, it increases the chances that she will continue to ignore your efforts.
I know you can't go all ninja on the kids on the plane. You can't start yelling, and you can't give them a time out. You can't suddenly start acting differently than you do at home and expect the kids to behave. That's why this all has to start before you get on the plane. Start disciplining them at home so they understand your tone of voice. Follow through on consequences so they're used to listening to you. Things will go much more smoothly.
5. Talk to your kids
This may sound crazy, but interact with your children. As soon as you sit down on the plane, in a happy voice (to distinguish from your mad tone of voice), start a running commentary and conversation with them. "Oh, Jane and Sam, isn't this fun? We're going to go up in a plane. Let's do the seatbelts up. Can you figure out how to do it? Oh, look I can hear the engines. Can you hear the engines? What else makes a loud noise like that? What do you think is going to happen next?"
"Wow, we're starting now. We're moving. Aren't we going fast? Do you think we'll go up in the air soon? Look out the window! Can you see any houses? What do you see down there?" And so on. And so on.
Talk to your kids. If you start a commentary like this, the kids will stay engaged, and they won't cry. I talked to my kids non-stop. Yes, it was a lot of work for me, but it's a lot less work than listening to a child screaming.
More often than not these days, flying is an ordeal.  Flying with children is that much harder.  So the next time you're headed to the airport with the whole crew in tow, make sure you pack a few of these strategies in your carry on.  On behalf of everyone else on the flight, thank you.
Take the next step:
Creative parenting techniques
10 Tips to Effective & Active Listening Skills