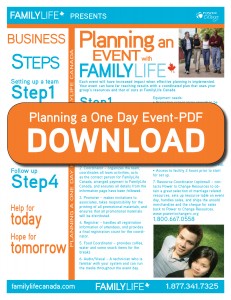 Each event will have increased impact when effective planning is implemented. Your event can have far reaching results with a coordinated plan that uses your group's resources and that of ours at FamilyLife Canada.
Step1
Setting up a team
Look for people in your organization who can fill the following roles:
1. Champion – makes the initial agreement to host A Day Together event, promotes the event through enthusiastic leadership, sets up the other team members, welcomes attendees on event day, and introduces the FamilyLife Canada team to attendees.
2. Coordinator – organizes the team, coordinates all team activities, acts as the contact person for FamilyLife Canada, arranged payment to FamilyLife Canada, and ensures all details from the information page have been followed.
3. Promoter – makes invitations to associates, takes responsibility for the printing of all promotional materials, and ensures that all promotional materials will be distributed.
4. Registrar – handles all registration information of attendees, and provides a final registration count for the coordinator.
5. Food Coordinator – provides coffee, water and some snack items for the breaks (such as  muffins and fruit)
6. Audio/Visual – A technician who is familiar with your system and can run the media throughout the event day.
Equipment needs:
• Projection screen large enough to be visible to every audience member.
• LCD portable projector and stand for audio-visual presentation. (Min. 1800 lumens)
• DVD player able to play all formats of DVDs. Must have sound patch cord to connect to the DVD player from your sound board.
• Sound system appropriate for the room including 2 microphones.
• Two music stands or two small podiums.
• One table for FamilyLife resources.
• Water for speakers (Bottled is preferred).
• Access to facility 2 hours prior to start for set up.
7. Resource Coordinator (optional) – contacts Power to Change Resources to obtain a great selection of marriage related resources, sets up resource table on event day, handles sales, and ships the unsold merchandise and the cheque for sales back to Power to Change Resources. www.powertochangerc.org 1.800.667.0558
Step2
Promotion
The most effective method of promotion is personal invitations.  You and your team members are the best ones to encourage couples to attend.  Below are some tools to help you.
• Video clips
• Posters
• Invitations
• Email ads
• Power point slides
Promotional Schedule:
3 months in advance
• Set up team
• Event information placed on promo materials from FamilyLife Canada (determine date, location, cost and contact person)
• Download and print posters, invitations, registrations
• Posters up, invitations available
• Personal invitations
• Put info on employee website
• Place advertisement in employee bulletin or newsletter
2 months in advance
• Personal invitations
• Email invitations
• Place advertisement in employee bulletin or newsletter
Last Month
• Send second email invitation
• Play promotional clips on employee website or lunch room
• Personal invitations
• Power point slides
• Place advertisement in employee bulletin or newsletter
• Additional posters in new locations
Step3
Day of Event
The best preparation is to have your people ready for the challenges that may occur.  A/V problems, people unable to fulfill their responsibilities. These can be a distraction but don't need to have a negative effect. Our speakers are able to roll with whatever occurs and realize that God will still do amazing things since He is never surprised.
The schedule is flexible and will be adjusted by the speakers where needed throughout the day.
Registration – this is for those registering at the event.
Manuals – one per person. Having pens available is appreciated by the couples.
Breaks – since schedule could vary please note that break times may vary slightly.
Speaker Needs – bottled water is great.
Lunch – we find it is best to have couples go off by themselves for lunch so they can work on the project.
Resources – Book table should be set up before people arrive.
Introduction – MC to give welcome; give facility details (Washrooms, etc) and
introduce the speakers. (2-3 minutes)
Step4
Follow-up
We suggest sending out a letter of thank you to your attendees giving suggestions for follow-up. FamilyLife offers a number of resources on our website.  www.familylifecanada.com
• Video Answers
• Weekend to Remember Conference
• Need Prayer
• Mentoring – ask questions
• How to become a Christian
• Video Answers