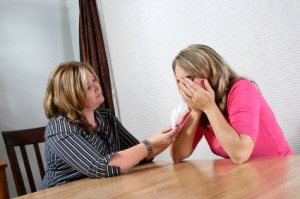 "How do I help when my friend's marriage is hurting?"  It is very common to have a friend facing marriage issues and be unsure how to help. Here are some tips for you:
First priority is to listen.  We all need someone to listen and not just hear us.  This is a very important time to hear what they are experiencing with compassion.  Fixing the situation is not your primary concern; hearing them out is. 
Be available as much as you can. Through email, phone, or face to face, let them know you want to walk this journey with them as part of the support team they need.  Oftentimes the hurting person feels like a nuisance and needs reassurance that they are not a bother.  Ideally, it is good for them to have 2-3 friends to go to.  Ask who else they are talking to and encourage healthy friendships.  Encourage them to keep the circle of confidence small.  They should not "tell all" to everyone.  This is especially important regarding the BIG issues like adultery, abuse, addiction, etc.
Help in practical ways. People in crisis need meals, childcare, groceries, etc. Being practical can be such a huge gift during the crisis phase of marital mayhem.  As the person transitions to the "new norm" this practical need fades.  There may be repeated times, after things have settled for a while, that they may hit another bump that may require more practical help again.
Direct them to Christian resources. Websites, articles, blogs, online mentor, FamilyLife marriage conferences, books, a mentor couple, counselor, are all great resources to help hurting couples.  Remember to direct them to Christian resources.  Jesus is the true source of real help.
Consider becoming an Online Mentor. CLICK HERE to learn more.

Pray for them by name. Prayer is such a powerful intervention that we have at our disposal anytime, anywhere.  Pray with your friends and let them know you are praying for them at other times.  It may feel uncomfortable at first to pray out loud with them, but it means a lot.  Remember to be courteous.  If they are not Christians, ask permission to pray.  Respect any time limits or privacy issues as you pray.
Do not give advice or tell them what to do. This is their situation, not yours.  They must make their own decisions.  Your role is to offer perspective, encouragement, and empathy.
Do not bad mouth the spouse. It is important not to badmouth the spouse as you listen; this adds fuel to the fire of emotions they are feeling.  If they say something negative, respond in an appropriate way without being negative yourself.
Be careful not to let their problems consume you.  Make sure you prioritize your family and your own needs as you make yourself available to your friend in crisis.  It can be incredibly draining for you in your already- busy schedule.  Keep balance.
Do not gossip about them.  This is so important. They have trusted you with their situation and you need to be worthy of that trust.  Not even as a prayer request are you to share their story.  It is their story and it is up to them to decide the circle of trust; not you.
Don't play God.  God can and does intervene in what would seem to be hopeless situations every day.  However, as you know, He does not always do so.  People still have a will of their own.  More hurt can be caused by well- meaning Christians who make spiritual statements about what the future holds, or what they think God is going to do.  The Bible provides guidance, but does not give us the future outcome of the situation.  Your job is to offer hope in God, not in the circumstances.  Psalm 42:11 Why are you downcast, O my soul? Why so disturbed within me? Put your hope in God, for I will yet praise him, my Savior and my God.